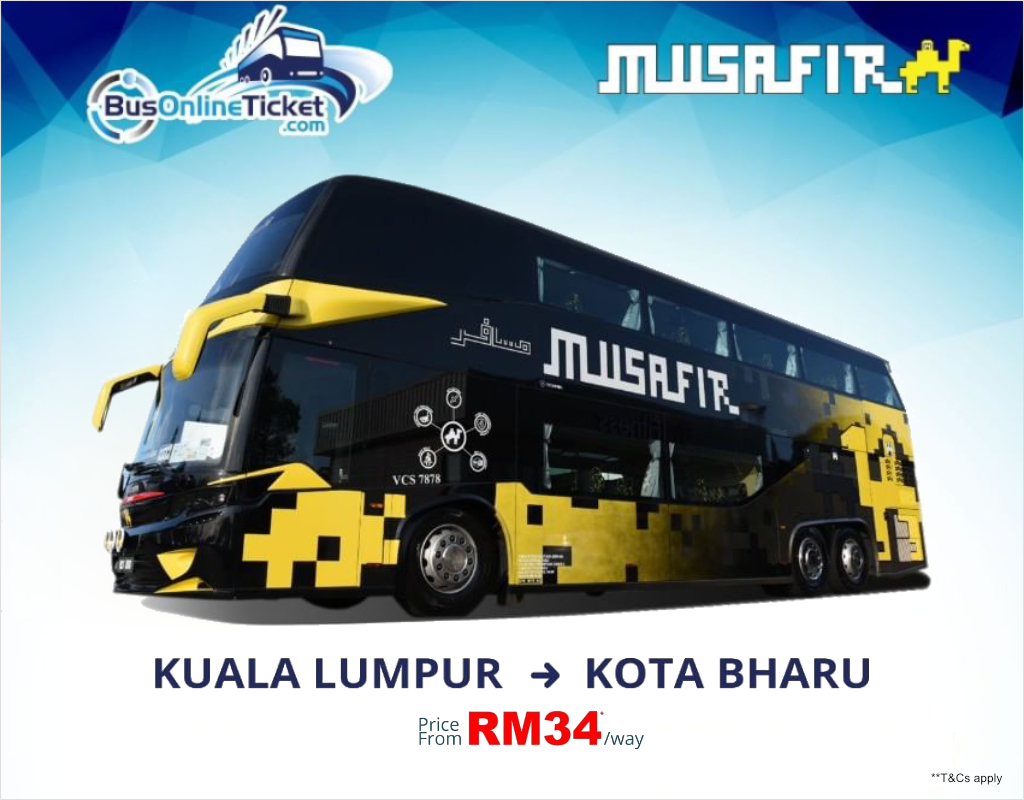 [26 August 2019] Ekspres Musafir is now offering bus tickets online at BusOnlineTicket.com. Bus ticket from Kuala Lumpur to Kota Bahru costs RM34 with 3 daily departures at Terminal Bersepadu Selatan(TBS). The Kuala Lumpur to Kota Bahru bus journey will take about 9 to 10 hours. Beside dropping off passengers at Kota Bharu Bus Terminal, you can also alight at Machang.
Instead of TBS, you can also catch the Ekspres Musafir bus from Klang to Kota Bahru which costs a little bit more at RM39.50. Check out the table below for the Ekspres Musafir bus departure timing:
Pick-up
Drop-off
Departure Time
Ticket Price
1-Way
TBS,
Kuala Lumpur
Kota Bharu Bus Terminal
9.30am, 9.30pm, 10pm
MYR34
Machang
Klang Sentral
Selangor
Kota Bharu Bus Terminal
8am, 8.30pm
MYR39.50
Other routes operate by Ekspres Musafir are from Kota Bharu to Gua Musang and from Gua Musang to Kuala Lumpur.
Pick-up
Drop-off
Departure Time
Ticket Price
1-Way
Kota Bharu Bus Terminal
Gua Musang
Kelantan
9am, 9pm, 9.30pm
MYR34
Gua Musang
Kelantan
TBS,
Kuala Lumpur
1.30am, 1pm
MYR34
Click here to find out more about the new partnership between Ekspres Musafir and BusOnlineTicket.com.


About Ekspres Musafir
Ekspres Musafir is a Kelantan-based bus operator and specialized in providing express bus services between Kelantan and various destinations in Peninsular Malaysia. Ekspres Musafir bus fleet is fully air-conditioned with spacious reclining seats and ample legroom to offer a comfortable long-distance bus ride.
You might also like