MyExpressBus.com is a content website that provides information on express bus travel in Singapore and Malaysia.
We create websites and publish content.
We are NOT an express bus company.
We are NOT a travel agency.
As such we do not offer travel packages that include bus tickets and hotel reservations.
For your convenience, we included links to our partner bus operator's websites, travel agencies, online hotel booking websites and online bus ticketing platforms where you can find out more about the bus fares and room rates to make your travel arrangement. We partner with Agoda.com, Booking.com, 12Go.Asia, BusOnlineTicket.com, Easybook.com and etc. When you book bus tickets or hotel rooms via links at this website, we are paid commissions by the merchants.
How Did All This Come About
Here's a little history about this website.
MyExpressBus.com was created in 2004 by a traveller who overslept and missed a chartered bus from Singapore to Malacca.
So he has to make his own travel arrangement quickly. He searched the internet for information on express bus to Malacca. He found nothing. Then, he remembered the old dusty Yellow Pages lying in the store room. After several minutes of "let your fingers do the walking", he eventually found some telephone numbers to call and figured out where to take the bus to Malacca.
After Malacca trip, he decided to compile a list of express bus companies in Singapore to share it on the World Wide Web. He registered a domain name and created a simple website. Here's the screen shot of the original website in September 2004.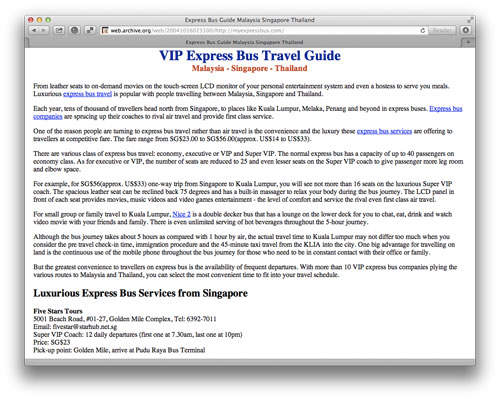 Over time, more pages were added and the website became popular with people from all over the world looking for information on Singapore-Malaysia express bus services.
Now, MyExpressBus.com has many pages of information including online bus ticketing, hotel reviews and travel tips.
Hopefully, you'll find this website useful in your travel planning and also share it with your friends and those who are looking for Singapore-Malaysia express bus information. Please Like our Facebook Page and mention @MyExpressBus in your tweets.