Going to Penang by Express Bus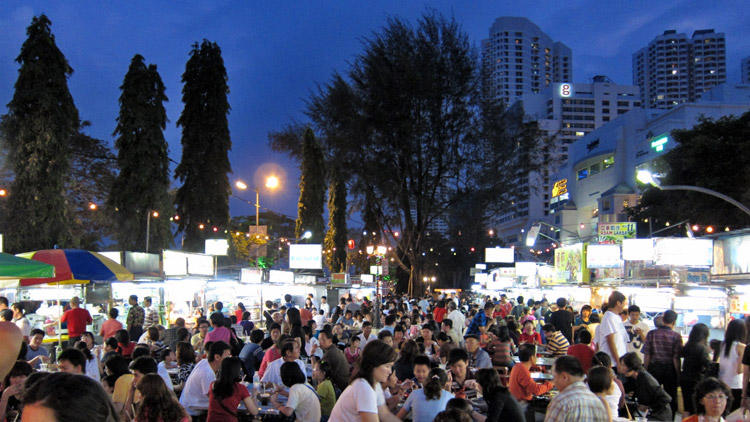 Penang is a nice, affordable weekend destination, with lots of good food and shopping. Singaporeans going to Penang should take advantage of low bus fares instead of paying for a full-priced flight, while people visiting Singapore should try to squeeze in a trip to both Kuala Lumpur and Penang to get a taste of Malaysia.
Taking a Bus to Penang
If you'd like to get to Penang from Singapore by bus, try one of these methods:
1. Singapore - Penang (for those who are in a hurry)
Konsortium, allows passengers to board at Golden Mile Tower (near Beach Road) or Boon Lay and drops them off at Butterworth, Sungai Nibong, Koyan or Jawi. The online booking service allows you to see how many tickets are left on a particular journey. Another popular bus company for the Singapore-Penang route is Sri Maju and the bus leaves fron Golden Mile Complex.
The one-way bus ticket from Singapore to Penang starts from SGD30.
2. JB Larkin Terminal – Penang (for those who want to save money)
If, however, you'd prefer more destination options and better prices, take the Malaysian express bus from JB Larkin Terminal to Penang. Bus companies such as Azamat Hati, City Express, Esjay Saujana, Fame Pacific, Iktikad Resources and etc. go to various destinations in Penang including Bukit Mertajam, Butterworth, Jawi, Nibong Tebal, Sungai Bakap and Sungai Nibong. Bus fares are priced in Malaysian Ringgit and start from MYR60.
Note: To find out how to take a bus from Singapore to Larkin Terminal, click here.
3. Kuala Lumpur - Penang (for those who also want to visit KL)
From Kuala Lumpur, it's about 4 hours bus ride to Penang. You can take the express buses from Putrajaya Sentral, Hentian Duta or TBS(Terminal Bersepadu Selatan). The bus tickets from Kuala Lumpur to Penang are priced in Malaysian Ringgit and start from MYR33.
Book Your Bus Ticket Online
Here's a couple of websites offering bus tickets online: BusOnlineTicket.com and Easybook.com. With online booking you can compare bus fares and select timing from a wide selections of bus operators.

Where to stay in Penang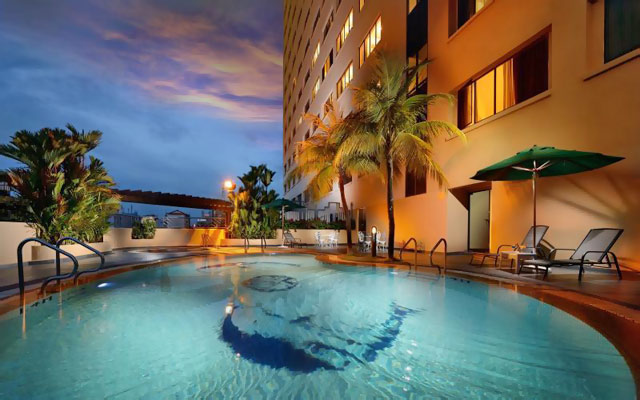 Sunway Hotel Penang, a 4-star hotel in Georgetown
Thankfully, accommodation in Penang is both plentiful and affordable. Sunway Hotel is my personal favourite. At USD65 a night, it may not be the cheapest, but its centrally located and near some good eateries. The food here is famed for its simplicity and authenticity: everything from char kuey kak, o-chien and of course, satay.
If you prefer the relaxing atmosphere of Penang's coast, consider Rainbow Paradise Beach Resort, 15 minutes away from Georgetown. On Tanjung Bungah Beach, the resort offers a great view of the sea and is comfortable and clean.
Things to Do, Places to Visit
Georgetown, the capital of Penang, was inscribed as a UNESCO World Heritage Site in 2008, for its unique architecture and culture. Walking around the city is a pleasant experience and great for pictures. Malacca has also received this honour; check out our guide to Malacca.
For a breath-taking (and chilly) view of Penang, head up to Bukit Bendera at night by the Penang Hill Railway ($12 per adult). Air atop the hill is gloriously cool and fresh and visitors can enjoy the view with some delightful food and drink from one of the many eateries.
Some other popular attractions include the Penang Durian Farm (home to a popular durian buffet) and the Kek Lok Si Temple, known as the biggest Buddhist temple in South-east Asia. The sprawling complex is made up of a serious of towering pagodas, marbled floors and elaborate structures.
Online Bus Ticketing via Easybook.com
Find the best timing, compare prices and save the hustle of booking your bus ticket in person. You can now Book Your Bus Ticket Online.