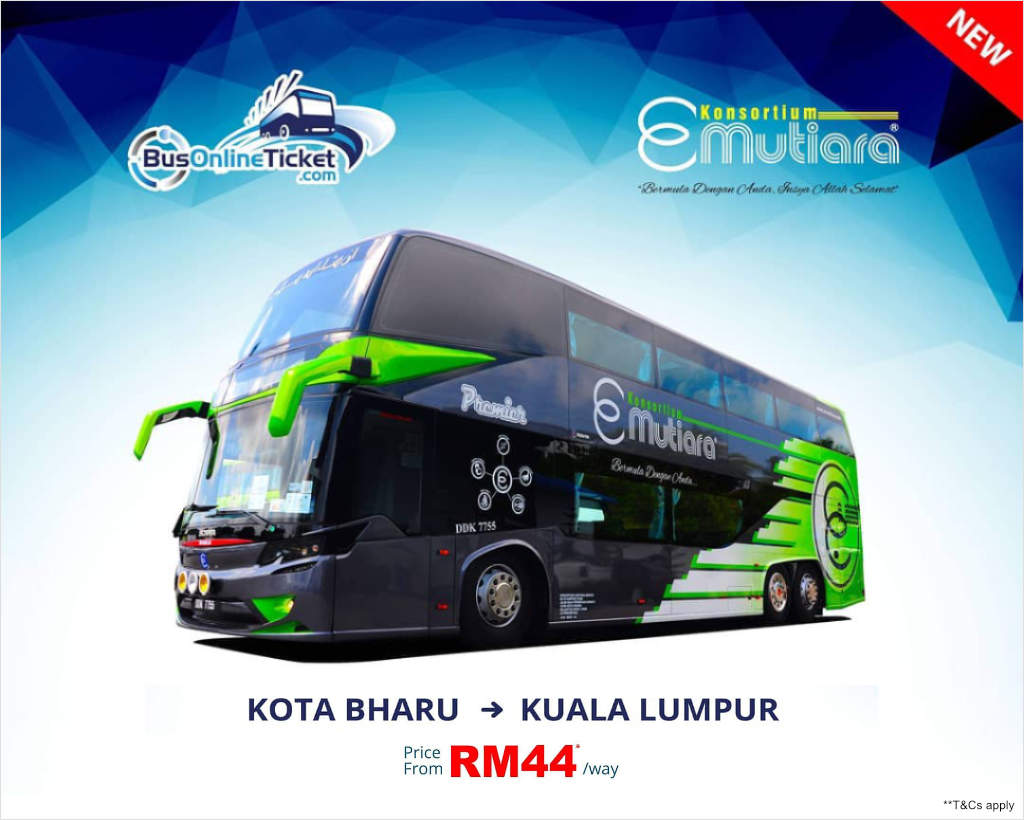 [23 August 2019] BusOnlineTicket.com recently announced the partnership with E-Mutiara to offer online bus ticket booking for express bus from Kota Bharu to Kuala Lumpur, Klang, Malacca and Johor Bahru. The bus journey from Kota Bahru Bus Terminal to Terminal Bersepadu Selatan(TBS) takes about 9-10 hours and the bus ticket costs RM44. The bus ticket from Kota Bahru to Klang cost RM49.50, from Kota Bahru to Malacca cost RM56.90 and from Kota Bahru to JB costs RM64.90. The table below shows the bus departure timing at Kota Bahru Bus Terminal.
Pick-up
Drop-off
Departure Time
Ticket Price
1-Way
Kota Bahru Bus Terminal
TBS,
Kuala Lumpur
9am, 2pm, 9pm, 10pm
MYR44
Klang Sentral,
Selangor
9am, 9pm, 10pm
MYR49.50
Melaka Sentral,
Malacca
8.30pm, 9pm
MYR56.90
Larkin Sentral,
Johor Bahru
8.15pm, 8.45pm
MYR64.90
Beside Kota Bahru Bus Terminal, there are also pick-up points at Chiku 3 and Pengkalan Chepa Pantai Timur Hypermarket.


About E-Mutiara
E-Mutiara (aka Konsortium E-Mutiara) is one of the top bus operators based in Kota Bharu, Kelantan. The brand is known for its excellent service and good track record. The E-Mutiara fleet includes double-decker buses with 2+1 seating arrangement offering reclining seats and ample legroom.
You might also like