How to travel by bus to Legoland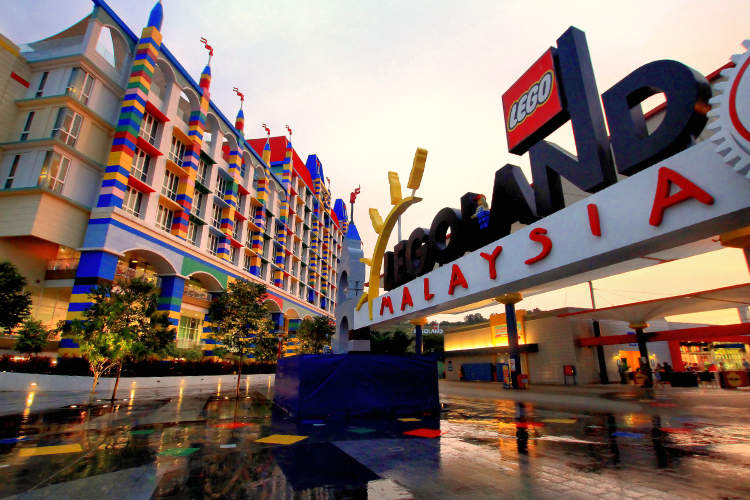 There are two ways to travel by bus from Singapore to Legoland Malaysia. One is to take the public buses and the other quicker way is to take the express buses.
First, let's look at the public bus option.
Option 1: Going by Public Bus to Legoland
First, you've to make your way to Jurong East Bus Interchang or Boon Lay MRT Station.
Then take CW3 or CW4 from Jurong East or CW6 from Boon Lay to CIQ 2nd Link.
Finally, at CIQ 2nd Link take CW7L, JPO2 or SL1 to Legoland.
There are public buses operated by Causeway Link from Jurong East and Boon Lay to CIQ Second Link (Sultan Abu Bakar CIQ Complex, Johor). From the bus bay at CIQ 2nd Link, you'll have take another Causeway Link bus to Legoland Johor.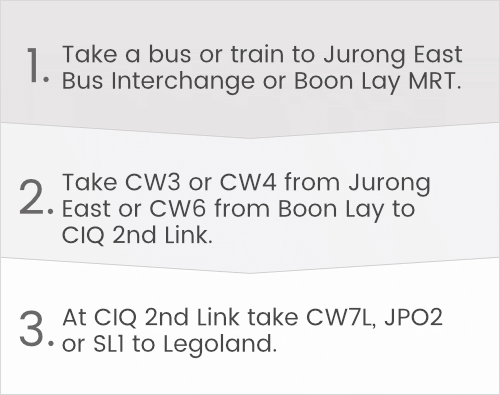 The entire journey will take more than an hour or two subject to traffic conditions and immigration procedure at the checkpoints.
Going from Jurong East or Boon Lay to CIQ 2nd Link
At Jurong East Bus Interchange, there are the Causeway Link CW3, CW4 and CW4S buses that go to the CIQ Second Link. If you choose to go from Boon Lay instead, then there is only one bus, CW6. The CW6 bus stop is located outside the Boon Lay MRT station(EW27).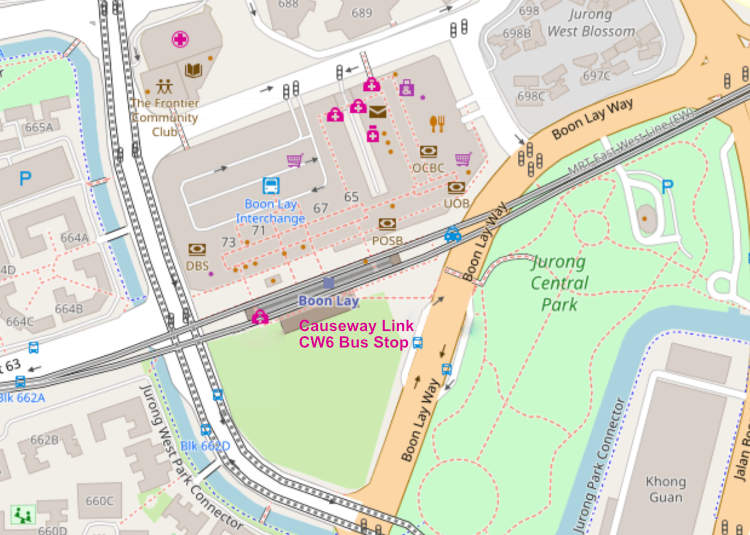 Travel from CIQ Second Link to Legoland
At the CIQ Second Link, there are the Causeway Link CW7L, JPO2 and SL1(operates on Sat, Sun and Singapore public holidays) that go to Mall of Medini which is walking distance from Legoland's entrance.
N.B. At the immigration and customs checkpoints, you will have to get off the bus and clear immigration at both Singapore and Malaysia sides. Same applies when you take the express bus.
To save time and hassle of changing multiple buses, you may want to take an express bus from Singapore to Legoland.
Option 2: Going by Express Bus to Legoland from Singapore Flyer or Jurong East
There are several express bus companies, such as Superior Coach, Starmart Express and WTS Travel, offering the Singapore to Legoland express bus service. The pick up points are: Singapore Flyer, Golden Mile Tower, Lavender MRT, Big Box at Jurong East and Boon Lay.
Check the table below for the best pick-up location, suitable timing and affordable ticket price.
Pick-up Location
Departure Time
Ticket Price**
1-Way
Singapore Flyer
9am, 10.30am, 11am
fr SGD13
Lavender MRT
9am
fr SGD12
Big Box, Jurong East
9.30am, 11am
fr SGD13
Golden Mile Tower
8am, 3.30pm, 7.30pm, 8pm
fr SGD10
Boon Lay
4.30pm, 8pm
fr SGD10
**The above schedule and ticket prices are subjected to changes without prior notice.
"We didn't try every ride and attraction but we were busy and having fun for the 8 hours we were there. We were ALL having fun, not just the kids, that's a really important factor." – Legoland Malaysia Review
Book Your Express Bus Ticket Online
Here's a couple of websites offering bus tickets: BusOnlineTicket.com and Easybook.com. With online booking you can compare bus fares and select timing from a wide selections of bus operators.