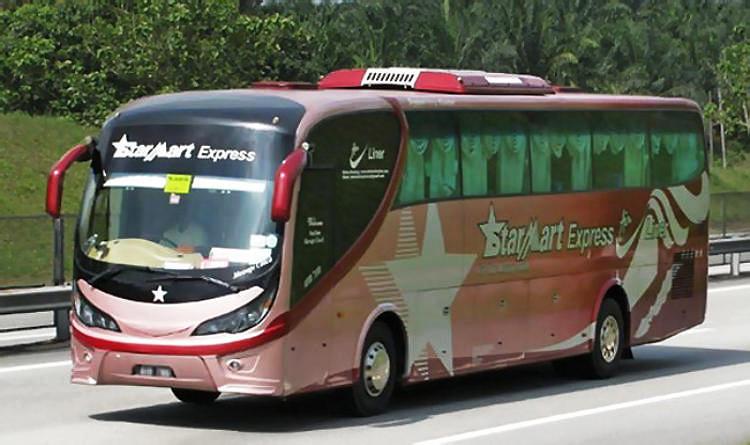 Starmart Express
Some of the reasons many people prefer to take Starmart express buses to KL are the hourly departure schedule, comfortable Super VIP seat and convenient dropoff point at KL Berjaya Times Square.
Hourly Departure from Singapore to Kuala Lumpur
Starmart bus departs daily from Singapore to Kuala Lumpur and the one-way bus ticket starts from SGD30, first bus departs Singapore as early as 6.45am while the last bus leaves Kuala Lumpur is at 11.59pm. You can board the Starmart buses either at Golden Mile Tower or Boon Lay.
With hourly departure, passengers can literally hop on to any Starmart bus that shuttle more than 12 trips a day between Singapore and Kuala Lumpur.
Passengers are to check in at the pick-up point at least 30 mins before departure timing. The bus ride is about 5 hours with a rest-stop and terminates at either TBS or Berjaya Times Square.
Starmart Express Timing & Bus Fares
The table below shows timing and ticket prices for bus departing from Golden Mile Tower at Beach Road, Singapore. Starmart Express buses also depart from Boon Lay to TBS, Berjaya Times Square, Seremban, Ipoh, Penang and Kedah.
Destination
Departure Time
Ticket Price**
1-Way
Kuala Lumpur
TBS
Berjaya Times Square
Every hour from 6.45am to 11.59pm
fr SGD30
Negeri Sembilan
Seremban
8.45am, 11.30am, 5.30pm, 8pm, 9pm, 10pm, 11.59pm
fr SGD30
Perak
Ipoh Amanjaya
10am, 8,30pm, 9.15pm, 10pm, 11.59pm
fr SGD38
Penang
Butterworth
Sungai Nibong
10am, 8.30pm
fr SGD45
10am, 10pm
Kedah
Alor Setar
Sungai Petani
8.30pm
fr SGD50
**The above timing and fares are subjected to changes without notice.
Super VIP Seats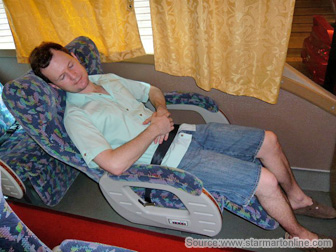 During a long bus ride, quality of the seats can make or break the journey. The coach-mix of Starmart bus is mainly 27-seater executive coach. These Super VIP seats provide spacious leg-room for stretching during the 5-hour ride.
Double decker coach are available only during peak season. The seats are comfortable as they can be reclined and equipped with a built-in massage function.
KL Beryaja Time Square Starmart Counter
The Starmart's Time Square counter at Berjaya Times Square is located at the Ground level, Kiosk AK-01, Monorail Stations.
Many Singapore residents travel to Kuala Lumpur for shopping, weekend getaways or visiting relatives. Hence, a convenient drop-off point that is near where they stay or shop can determine which bus operators they will choose. Nearby, there are Berjaya Times Square Hotel and Melia Hotel KL.
Book Your Starmart Express Bus Ticket Online
Find the best timing, compare prices and save the hustle of booking your bus ticket in person. You can now Book Your Bus Ticket Online.
Join the discussion