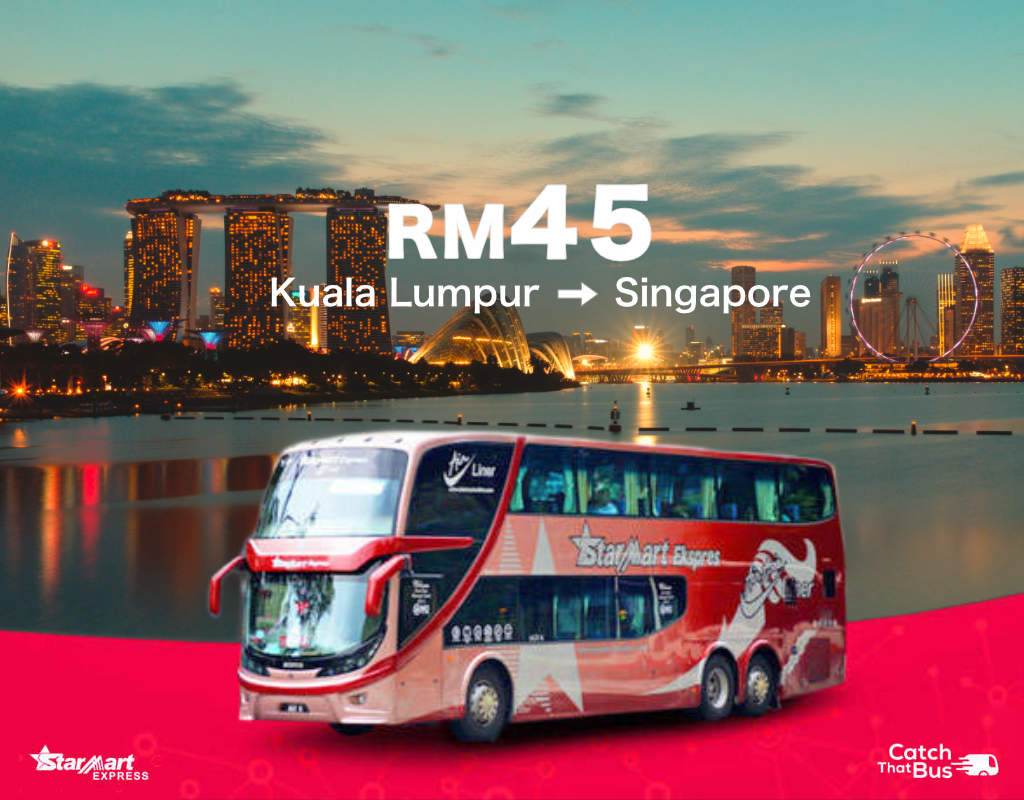 Starmart Express is offering cheap bus tickets from Kuala Lumpur to Singapore at MYR45.00(approx. SGD15) via CatchThatBus.com. You can catch the Starmart express bus either at Berjaya Times Square or at Terminal Bersepadu Selatan(TBS) and drop off in Singapore at Golden Mile Tower or Boon Lay.
Pick-up
Drop-off
Departure Time
Kuala Lumpur
Berjaya Times Square
Singapore
Golden Mile Tower
7am, 8.30am, 9am, 9.30am, 10am, 11am, 12.30pm, 1.30pm, 2pm, 4pm, 5.30pm, 7.30pm, 9pm, 11.30pm & 11.59pm
Singapore
Boon Lay
9am, 11am, 2pm, 4pm, 6pm, 9pm & 11pm
Kuala Lumpur
Terminal Bersepadu Selatan
Singapore
Golden Mile Tower
9.30am, 10am, 11.30am, 2.30pm, 3pm, 4.30pm, 5pm, 6.30pm, 9.30pm, 11.30pm & 11.59pm
Singapore
Boon Lay
9.30am, 11.30am, 2.30pm, 4.30pm, 6.30pm, 9.30pm & 11.30pm


About Starmart Express
Starmart Express is based in Taiping, Perak and has been around since 1989. It is a well-know express bus company in Taiping and operates daily express bus service to Kuala Lumpur, Singapore, Genting Highland, Kuantan, Butterworth, Kuala Terengganu and other towns in Peninsular Malaysia.
About CatchThatBus
CatchThatBus.com is a Malaysia-based bas ticketing platform founded in 2012. It operates over 700 routes in Malaysia and Singapore. Travellers can book cross-country trips between both countries and within Malaysia through a website or its iOS, Android and Windows apps.
You might also like