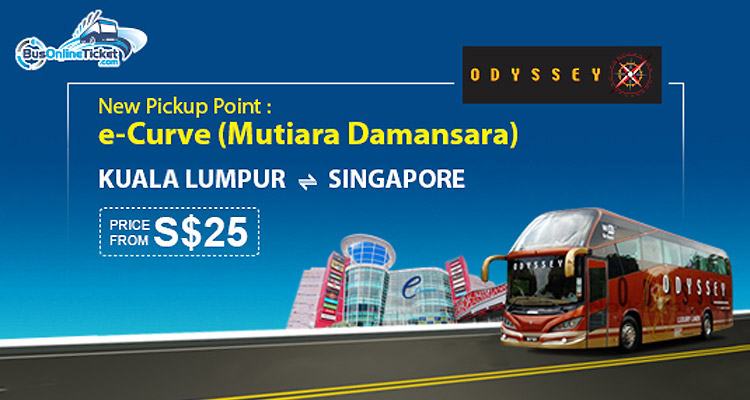 Odyssey Prestige Coach has moved its office from Mont Kiara to e-Curve, Mutiara Damansara. The e-Curve is the newer shopping and entertainment complex situated next to The Curve and accessible via link bridges to the nearby IPC Shopping Centre, IKEA Damansara and Tesco Mutiara Damansara.
There are 3 departures daily by Odyssey Prestige Coach from Kuala Lumpur to Singapore. Beside comfortable and spacious seats, WiFi is available onboard and power point at every seat for re-charging of mobile devices. The KL-SG bus fare from e-Curve(Mutiara Damansara) to Balestier Plaza(Singapore) starts from SGD25, one-way. Click www.busonlineticket.com to book your tickets now.
Pick-up/Drop-off
Kuala Lumpur
e-Curve, Mutiara Damansara
7.30am, 11am & 7.30pm
Singapore
Balestier Plaza


About Odyssey
Odyssey Prestige Coach is travel service provider established in 2007 offering express bus services between Kuala Lumpur and Singapore. It is one of the several bus operators to offer WiFi and meal onboard, and locate its pick-up and drop-off points from the usual location to serve a niche market and specific catchment area.