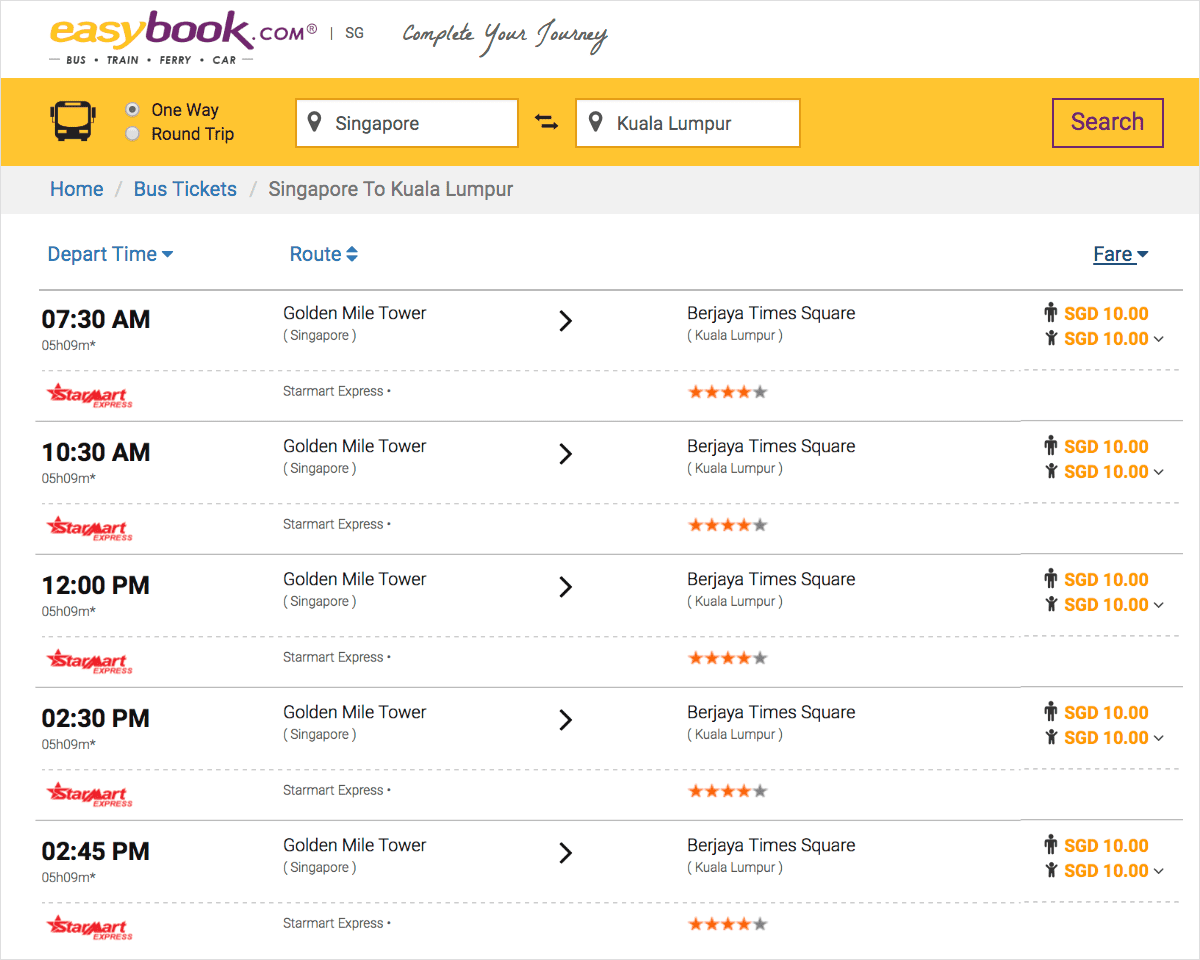 [2 May 2019] Planning a trip to KL? You may very well be in for a bargain! This week's cheap bus fare from Singapore to Kuala Lumpur costs only SGD10 by Starmart Express.
The Starmart express bus departs from Singapore at Golden Mile Tower, City Plaza and Park Royal Hotel(Kitchener). In Kuala Lumpur, the drop-off points are Berjaya Times Square, KL Sentral and TBS (Terminal Bersepadu Selatan). Depending on the pick-up and drop-off locations, the travel time from Singapore to Kuala Lumpur takes between 6 to 7 hours barring any major traffic congestion and delay at the checkpoints. The bus stopping at TBS takes about 6 hours and those stopping at Berjaya Times Square and KL Sentral will take about 7 hours.
Pick-up
Singapore
Drop-off
Kuala Lumpur
Timing
Golden Mile Tower
Berjaya Times Square
KL Sentral
TBS (Terminal Bersepadu Selatan)
7.30am, 10.30am, 12pm, 2.30pm, 2.45pm, 7pm & 11.45pm
City Plaza
10am & 6.30pm
Park Royal Hotel
10.15am & 6.45pm
The above offers are available for limited period, or until seats sell out. Click www.easybook.com to book your tickets now.


About Starmart Express
Starmart Express is based in Taiping, Perak and has been around since 1989. It is a well-know express bus company in Taiping and operates daily express bus service to Kuala Lumpur, Singapore, Genting Highland, Kuantan, Butterworth, Kuala Terengganu and other towns in Peninsular Malaysia.
You might also like