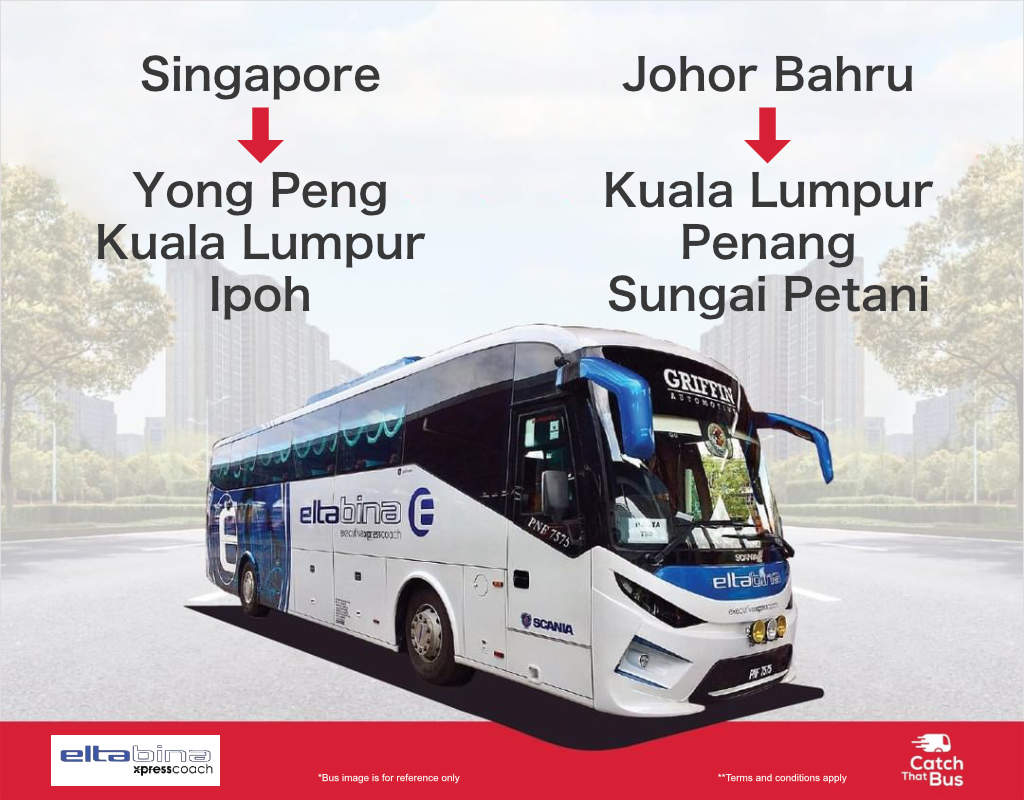 [22 Sep 2019] Eltabina partners with CatchThatBus to offer bus ticket from Singapore to Yong Peng, Kuala Lumpur, Ipoh and from Johor Bahru to Kuala Lumpur, Penang and Sungai Petani. Bus ticket from Singapore starts at SGD20 and from Johor Bahru at RM35. Refer to the table below for each destination's bus fare and departure timing.
Pick-up
Drop-off
Time
Ticket Price
Singapore
City Plaza
Yong Peng
2.30pm, 10pm
SGD20
(MYR60)
Kuala Lumpur
Bukit Bintang
SGD30
(MYR90)
Ipoh
Hentian Medan Gopeng
Terminal Meru Raya
9.30pm, 10pm
SGD38
(MYR114)
Johor Bahru
Larkin Terminal
Kuala Lumpur
TBS
2pm
MYR35
Penang
Sungai Nibong
9.15pm
MYR70
Sungai Petani
To book Eltabina bus tickets at CatchThatBus.com, click here.


About Eltabina Express
Eltabina has been operating express bus services and bus chartering services since 1992. The head office is located in Kuala Lumpur, Malaysia. The Singapore office, Eltabina Jaya Express Pte Ltd, was established in 1997 to provide express services from Singapore to Kuala Lumpur, Perak and Penang. The fleet of express buses include 27-seater Super VIP coach and 37-seater double-decker.
About CatchThatBus
CatchThatBus offers intercity bus tickets including those between major Malaysia cities and Singapore. It partners with more than 90 bus companies and operates over 1000 routes. Travellers can book cross-country trips between both countries and within Malaysia through a website or its Android and iOS apps.
You might also like