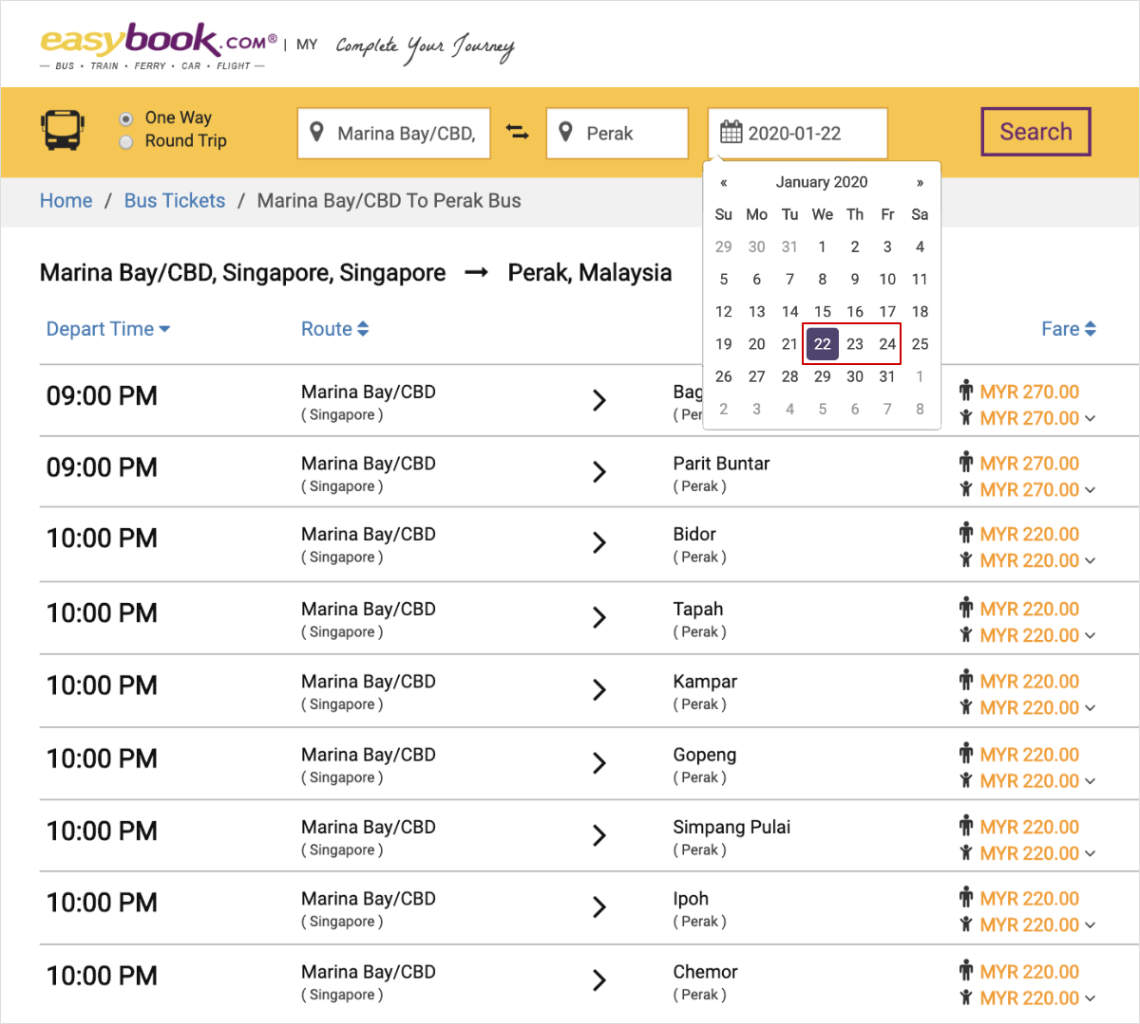 [14 Sep 2019] To cater for the Chinese New Year 2020 travel season, Joo Seng Travel & Tour's special express bus trips between 22, 23 and 24 January 2020 are now open for booking. The CNY 2020 bus ticket from Singapore to Perak starts from RM220(about SGD78) and bus ticket from Singapore to Penang costs RM270(about SGD95).
The pick-up point in Singapore is at Marina Bay Sands Expo and Convention Centre. See the table below for the drop-off points in Perak and Penang.
Route
Pick-up
Drop-off
Time
Ticket Price
Singapore to Perak
Marina Bay Sands
Bagan Serai, Parit Buntar
9pm
RM270
Bidor, Tapah, Kampar, Gopeng, Simpang Pulai, Ipoh, Chemor, Sungai Siput, Kuala Kangsar, Simpang Taiping, Kuala Sepetang
10pm
RM220
Singapore to Penang
Nibong Tebal, Jawi, Chai Leng Park, Raja Uda, Komtar, Sungai Nibong
9pm
RM270
For more information on this promotion, click Easybook.com. To book your CNY 2020 bus ticket online to Perak → click here and to Penang → click here.


About Joo Seng Travel & Tour
Joo Seng Travel offers tour packages and express bus services from Penang to many tourist attractions in Malaysia and Southern Thailand including the popular Penang to Genting Highlands route.
You might also like