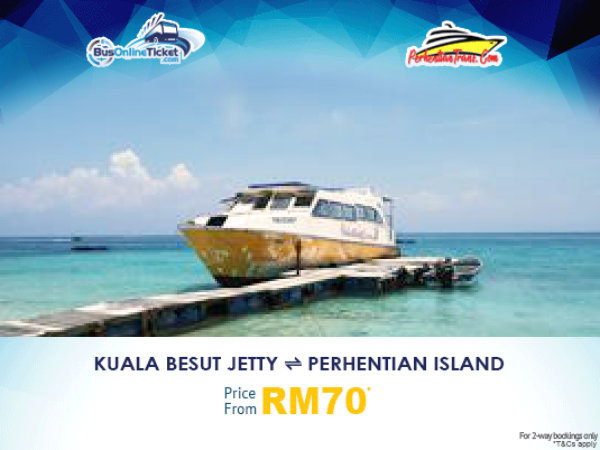 [14 Mar 2019] Good news for holidaymakers heading to Perhentian Island, the 2-way ferry ticket from Kuala Besut Jetty to Perhentian Island costs only MYR70 when booked online via BusOnlineTicket.com. The popular ferry services provided by Perhentian Trans Holiday and scheduled ferry departures as follow:
Pick-up
Drop-off
Departure Time
Ticket Price
(2-way)
Kuala Besut Jetty,
Terengganu
Perhentian Island
8am, 9am, 10am, 11am, 12pm, 1pm, 2pm, 3pm, 4pm & 5pm
MYR70
Perhentian Island
Kuala Besut Jetty,
Terengganu
8am, 12pm & 4pm
To book your Perhentian Island ferry ticket online, click here.


About Perhentian Trans Holiday
Perhentian Trans Holiday is a company specializing in ferry service in Kuala Besut, Terengganu. The company has related businesses in travel and tours such as ocean activities, chalet and shipping stevedore.
You might also like