[11 Feb 2019] Easybook is offering 10% discount on Dolphin Fast Ferry between Batam and Johor Bahru. Usual ferry ticket price is RM80. With the promo code, you pay only RM72. From Batam Center, the ferry departs at 7am and last ferry leaves at 4pm. At Puteri Harbour Ferry Terminal, Johor Bahru the first ferry leaves at 8.30am and last one departs for Batam Center at 6.30pm.
Promo code: DOLPHIN10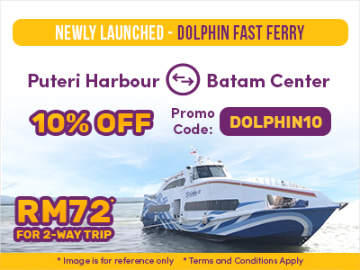 Here's the Dolphin Fast Ferry schedule between Batam Center and Puteri Harbour Ferry Terminal, Johor Bahru:
| From | To | Departure Time | Ticket Price |
| --- | --- | --- | --- |
| Batam Center | Puteri Harbour Ferry Terminal | 7am, 10.30am, 2pm & 4pm | MYR80 |
| Puteri Harbour Ferry Terminal | Batam Center | 8.30am, 11am, 2.30pm & 6.30pm | MYR80 |
For passengers travelling from Johor Bahru, you can take the free shuttle services from Larkin Sentral Bus Terminal to Puteri Harbour to board the Dolphin Fast Ferry for Batam Center.
The above Easybook's promotion ends on 28 Feb 2019, please refer to the terms and conditions at www.easybook.com/…/dolphin-fast-ferry-ten-percents-discount.
To book your Dolphin Fast ferry ticket online, click Easybook.com.


About Dolphin Fast Ferry
Dolphin Fast Ferry is owned by PT. ASM and started ferry services between Indonesia's Batam Center and Johor Bahru's Puteri Harbour in May 2018. The 148-seat ferry offers basic facilities of air-conditioning, cushioned seats and TV to allow passengers to have a smooth sailing journey.
You might also like