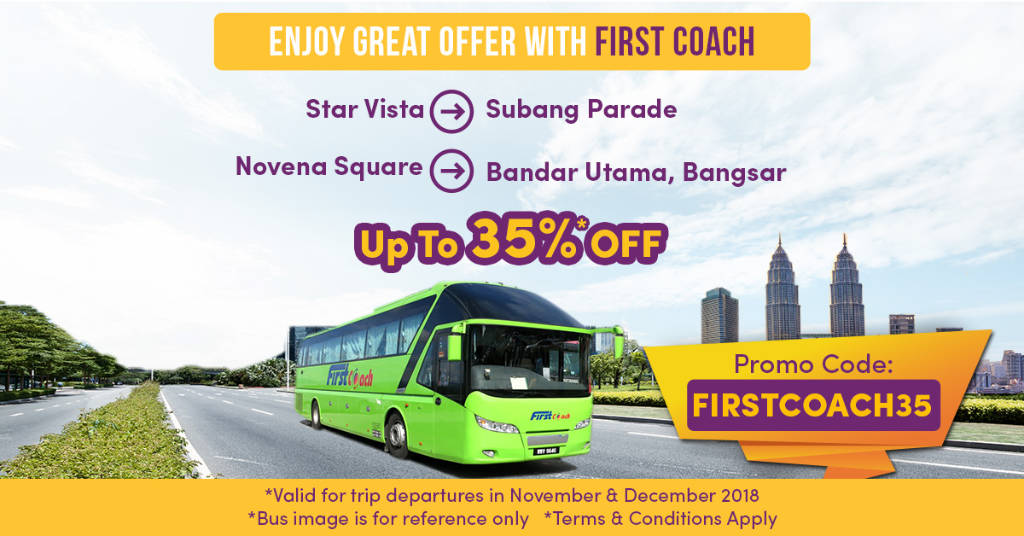 [26 Nov 2018] Easybook.com is offering 35% discount on First Coach bus tickets from Singapore to Kuala Lumpur and Selangor. Use the Promo Code FIRSTCOACH35 upon checkout at Easybook.com to enjoy 35% discount for departures in November and December 2018 on these selected routes:
Pick-up
Drop-off
Scheduled Time
Bus Fare
Star Vista
Singapore
Subang Parade
Selangor
7.45am, 11.45am,
2.45pm & 4.45pm
SGD36
Novena Square
Singapore
Bandar Utama
Selangor
8am, 3pm & 7pm
SGD36
Bangsar
Kuala Lumpur
11.30am, 2.30pm,
4.30pm & 6.30pm
SGD36
For more information on the promotion, click here.
About First Coach
First Coach is a bus company established in 2004 to provide express bus services between Singapore and Malaysia. This operator is well-known for their comfort, convenience, safety and reliability.
You might also like