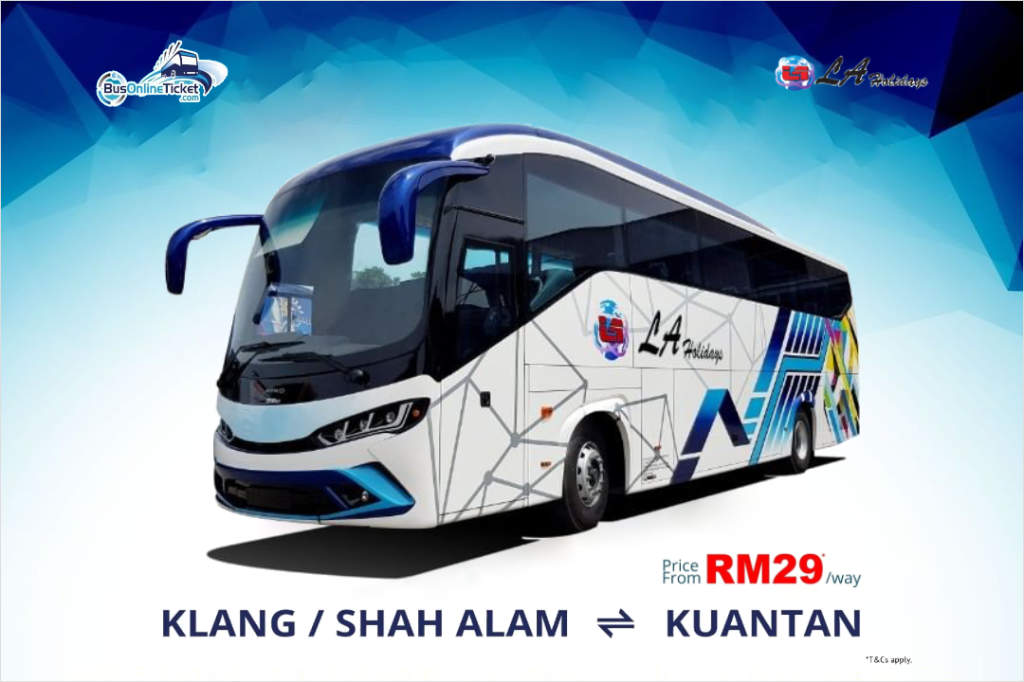 [7 October 2019] LA Holidays Express has launched the express bus services from Klang to Kuantan and Shah Alam to Kuantan. The pick-up locations are Klang Sentral Bus Terminal and Shah Alam Bus Terminal. The bus will stop at University Malaysia Pahang(UMP Gambang) and Kuantan Sentral Bus Terminal.
Bus ticket price starts at RM29 one-way and return tickets are also available online at BusOnlineTicket.com.
See the table below for the express bus departure timings from Klang and Shah Alam to Kuantan and also the return trip from Kuantan to Klang and Shah Alam.
Pick-up
Drop-off
Departure Time
Ticket Price
1-Way
Klang Sentral Bus Terminal
Kuantan Sentral Bus Terminal
9.30am, 3pm, 9.30pm
MYR29
Shah Alam Bus Terminal
10am, 3.30pm, 10pm
Kuantan Sentral Bus Terminal
Klang Sentral Bus Terminal
9am, 4pm, 10pm
MYR29
Shah Alam Bus Terminal


About LA Holidays Express
LA Holidays is based in Selangor and operates a relatively new fleet of express buses between Kuala Lumpur and Kuantan. In addition to its own brand of express bus services, LA Holidays Express partners of KKKL to operate the KL to Singapore, KL to Johor, Genting Highlands to Singapore, and Genting Highlands to Johor express bus routes.
You might also like