Luxury coach and express bus services are popular with people travelling between Singapore and Malaysia. It is relatively cheap and convenient to take the Malaysia express bus from Singapore to visit major cities, small towns and even tourist attractions in Malaysia such as:
Benefits of Taking the Express Bus to Malaysia
Express bus companies have been sprucing up their Singapore to KL express bus services to rival cheap air ticket prices from Singapore to Kuala Lumpur, Singapore to Ipoh and Singapore to Penang offered by the low-cost carriers.
Some of the reasons people are taking the Malaysia express buses rather than budget airlines are the convenience and the luxury that these bus services are offering to travellers at very competitive prices. See table below for bus ticket prices summary.
For destinations like the smaller cities and towns such as Muar, Yong Peng, Ayer Hitam, Mersing and Kluang in Johor; Port Dickson and Lumut that do not have an airport nearby, taking the express bus might be the better option.
Express Bus Travelling Time & Ticket Prices
Destination
Travelling Time
Ticket Price**
Air Hitam
2-3 hours
SGD17
Yong Peng
2-3 hours
SGD20
Muar
3-4 hours
SGD24
Malacca
3-4 hours
SGD25
Mersing (Gateway to Tioman Island)
4-5 hours
SGD30
Port Dickson
4-5 hours
SGD35
Seremban
4-5 hours
SGD28
Kuala Lumpur
5-6 hours
SGD30
Genting Highlands
6-7 hours
SGD30
Shah Alam
5-6 hours
SGD30
Klang
5-6 hours
SGD30
Ipoh
7-8 hours
SGD38
Cameron Highlands
9 hours
SGD41
Lumut (Gateway to Pangkor Island)
9-10 hours
SGD38
Butterworth
9-10 hours
SGD40
Penang
9-10 hours
SGD40
Hat Yai, Thailand
12-13 hours
SGD45
**The above fares are subjected to changes without notice, please click here for the latest.
Book Your Express Bus Ticket Online
Find the best timing, compare prices and save the hustle of booking your bus ticket in person. You can now Book Your Bus Ticket Online.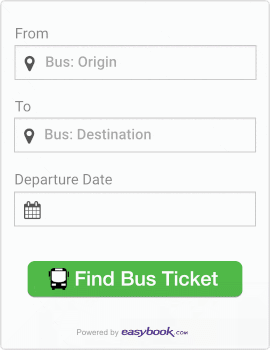 You might also like: