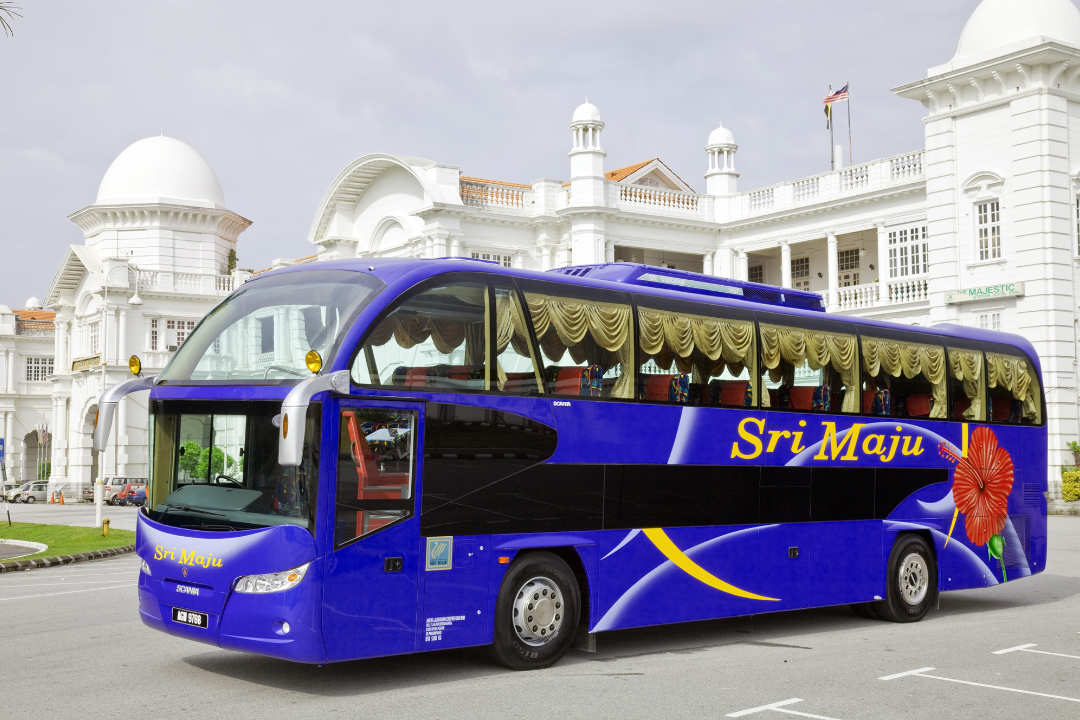 Sri Maju Express is the common name used for the express bus services operate by the Sri Maju Group. The bus company was founded in the seventies and set up its first office in Ipoh. Now, the fleet has over a hundred buses and branch offices throughout Malaysia.
Note: There is another bus company with very similar name, Sri Maju (Kangar). This bus company operates from Kangar, Perlis and is an agent of the Sri Maju Group.
Sri Maju offers comfortable travelling experience providing travelers with much convenience between Singapore and major cities and towns in Malaysia. From Singapore, Sri Maju buses go to Ipoh, Penang, Kuala Lumpur, Genting Highlands, Malacca, Kedah and Hatyai in Thailand.
Sri Maju's fleet consists of several bus types:
First Class: 21-seater
Business Class: 24-seater and 26-seater
Standard: 36-seater and 44-seater
The standard 36-seater and 44-seater buses, with 4 seats in a row, are deployed for inter-city routes, between cities within Malaysia.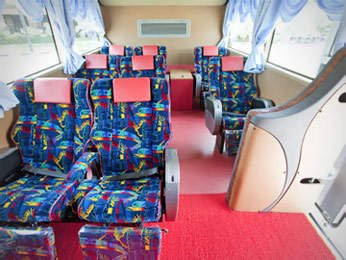 The First Class 21-seater buses are deployed on the Singapore to Malacca and Singapore to Ipoh routes. The Singapore to Kuala Lumpur and Singapore to Penang bus routes uses the 24-seater. From Singapore to Hatyai, you will be taking the 26-seater. You can expect the following perks on the First and Business Class buses:
Wider seat (3 seats in a row)
Adjustable seat with leg rest
Boarding/alighting door with handrail
Luggage rack
Low floor design
Sri Maju Bus Timing & Bus Fares
From Singapore, Sri Maju buses depart at Golden Mile Complex, Beach Road. The MRT stations nearest to Golden Mile Complex are Nicoll Highway(CC5) and Lavender(EW11).
Destination
Departure Time
Ticket Price**
(1-Way)
Malacca
-Estadia Hotel
-Melaka Sentral
8am
fr SGD30
Kuala Lumpur
-Ancasa Hotel
-Sungai Besi Toll
-TBS
7.30am, 9am, 3pm,
7pm(Fri only),
11.30pm
fr SGD30
Genting Highlands
-First World Hotel
7.30am, 11.30 pm
fr SGD40
Perak
-Batu Gajah
-Gopeng
-Lumut
-Sitiawan
9pm
fr SGD42
Ipoh
-Jalan Bendahara
- Ipoh Amanjaya
9am, 10pm, 10.15pm
fr SGD42
Penang
-Bukit Mertajam
-Butterworth
-Juru Toll
-Sungai Nibong
9.00pm
fr SGD43
Kedah
-Alor Setar
7.00pm
fr SGD45
Thailand
-Hatyai
7.00pm
fr SGD45
**The above timing and fares are subjected to changes without notice.
Book Your Express Bus Ticket Online
Find the best timing, compare prices and save the hustle of booking your bus ticket in person. You can now Book Your Bus Ticket Online.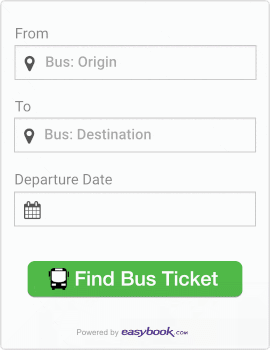 You might also like: