Guide to Top 10 Must-Try Food in Malacca
Heading to Malacca for a weekend of food and drink? Here's a quick food guide to the top 10 places to try out the best of what Malacca has to offer.
1. Chicken Rice Ball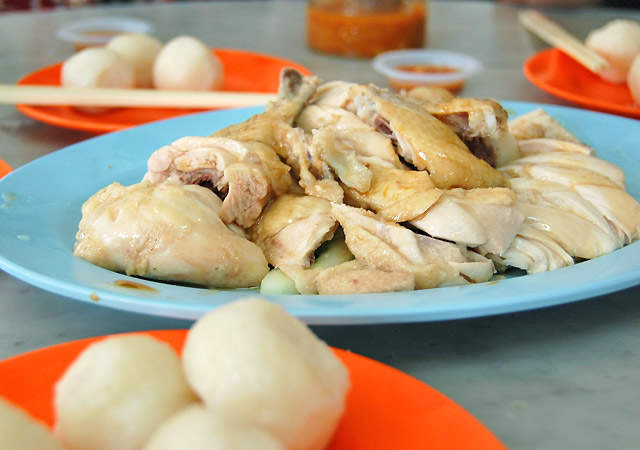 You cannot leave Malacca without trying its signature chicken rice balls. An interesting alternative to the usual sliced chicken breast on rice, this dish features balls of rice served alongside chicken. They are everywhere in Malacca – we suggest you get your fix at Chung Wah Restaurant. Queues here are known to be long, especially after 10am, so try to get in early for a hearty breakfast.
Kedai Kopi Chung Wah, Lorong Hang Jebat (Chung Wah is located at the intersection of Jalan Hang Jebat and Lorong Hang Jebat; landmarks include San Shug Gong, a famous Chinese food market)
Open: 0730h – 1400h
Price: $3.50 per plate
2. Nyonya Laksa
Looking for a value-for-money, sinful bowl of Nyonya Laksa, rich in coconut milk? We love the bowls served at Calanthe Art Café, and so do many food bloggers, who name it the best in Malacca. Creamy, spicy and with a generous amount of ingredients, you might end up polishing off two bowls by yourself.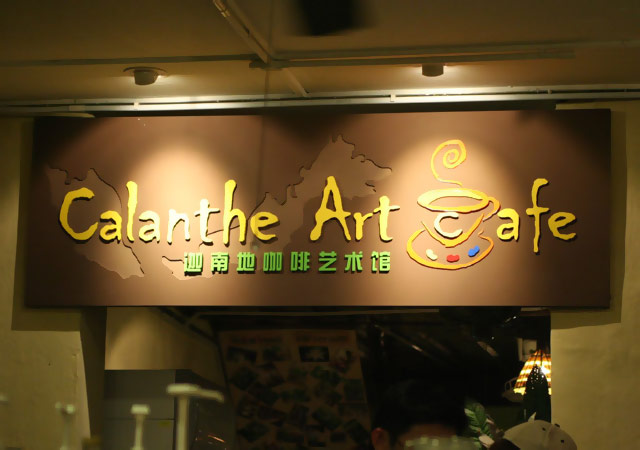 Calanthe Art Café, No. 11, Jalan Hang Kasturi, Malacca 75200
Open: 1200h – 2300h (Mon - Wed), 1200h – 0000h (Fri), 0830h – 0030h (Sat), 0830hh – 2300h (Sun)
Price: $3 per plate
3. Satay Celup
Skewered meat dipped in boiling satay sauce – this twist on traditional satay has fans around the country. Head to Capitol Satay Celup Restaurant for an authentic experience. The family-run business has been around for several generations and is still as popular as it was when it first opened.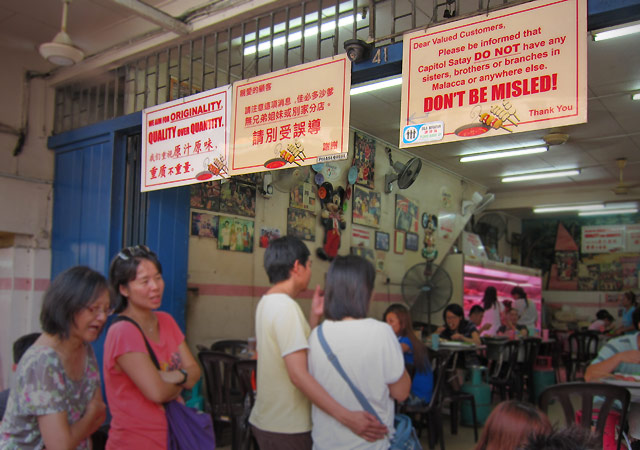 Capitol Satay Celup Restaurant, 41, Lorong Bukit Cina, Malacca 752100 (Tel: +60-6-283-5508/+60-12-229-5505)
Open: 1700h till late (closed on Mondays)
Price: Sticks start at $0.30 apiece (vary depending on meat chosen)
4. Nyonya Satay
Pork satay is uncommon in most parts of Malaysia and Singapore, but is a delicacy in Malacca. The traditional peanut sauce has an added kick thanks to a mixture of pineapple sauce. Head to Sun May Hiong Pork Satay, where customers are automatically greeted by a large tray of satay, even before ordering it (the restaurant practices a 'pay-for-what-you-eat' concept).
Sun May Hiong Pork Satay, 50/50A, Jalan Kota Laksamana, Taman Kota Laksamana, Malacca 75200
Open: 1000h – 1700h
Price: 60 cents for a stick
Detailed review and more photos at www.vkeong.com
5. Fried Oysters
For fried oysters rich in flavour, lard, egg and chilli, try the one at Sin Yin Hoe. Relatively quiet, it's an undiscovered gem that is quickly making waves among Malacca's foodie community.
Sin Yin Hoe, 135, Lorong Hang Jebat
Open: 1600h – 0000h (closed on Tuesdays)
Price: Smallest portions begin at $2.30
6. Char Siew Rice
Some would scoff at people who eat char siew rice when in Malacca, but they haven't tried the one at Chuen How Restaurant. Though located farf from the city, it is patronised by many locals who are a fan of its char siew, assam fish and vegetable dishes. The char siew slices are tender, crispy and flavourful – a must try.
Chuen How Restaurant, Jalan Merak, Taman Melaka Baru (Fasa 1), Batu Berendam, Melaka
Open: 1200h – 1900h (closed on Thursdays)
7. Cendol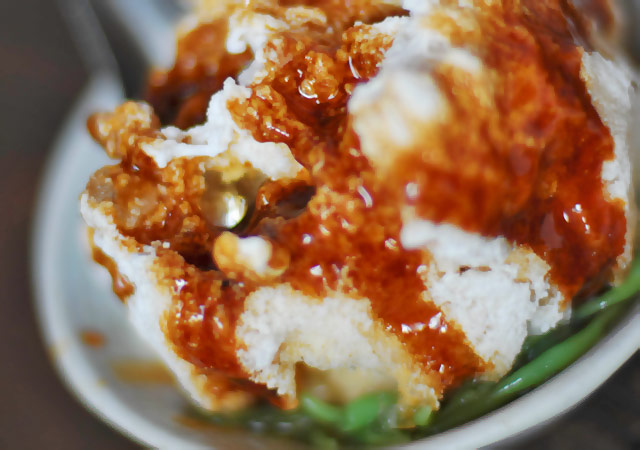 To beat Malacca's humidity and heat, enjoy a refreshing bowl of cendol. Although you can find this drink anywhere, we love the one at Bukit Rambai Cendol & East & West Rendezvous Café: creamy, sweet and perfectly balanced.
Bukit Rambai Cendol & East & West Rendezvous Café, Jalan Batang Tiga, Kampung Bukit Rambai, Malacca 75250
Price: $1.50
8. Nyonya Kueh
Head to the rustic Baba Charlie Nyonya Cake for a wide array of Nyonya delights (at least 23 varieties are freshly produced everyday, including kuih dadar, ondeh-ondeh, and kuih koo hitam).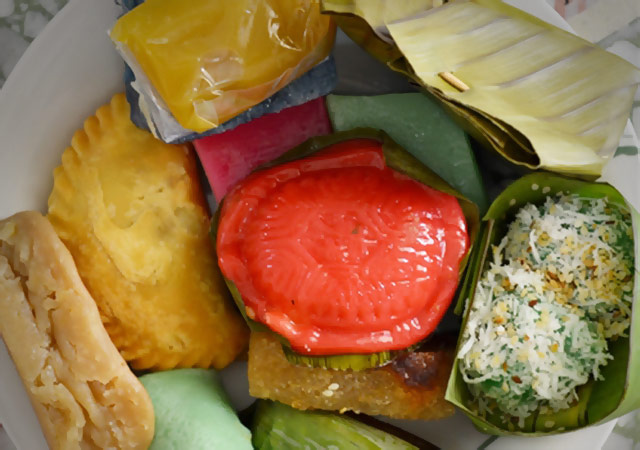 Baba Charlie Nyonya Cake, Baba Charlie Lee, 72, Jalan Tengkera Pantai 2, Malacca 75200
Open: Closed on Thursdays
Price: Range from 20 to 70 cents per kuih
9. Crème Crepe
Nadeje Cake House is a modern café specialises in 'thousand layer cakes', or crepes, which melt in your mouth. There are a variety of flavours and toppings, including rum & raisin, praline, strawberry and green tea.
Nadeje Cake House, G-23B, EG 4 & EG 5, Ground Floor, Mahkota Parade, Malacca 75000
Open: 1100h – 2300h
Price: Crepes begin at $3.50
10. Long Black
Coffee is serious business at the Khaki Coffee Bar, where the owner prides himself on roasting and grounding his own coffee beans. The long black I had here was one of the best I've ever had – just the right temperature and an enticing aroma and flavour. This might be the best way to start your trip, or to end it.
Khaki Coffee Bar, 625, Jalan Melaka Raya 10, Taman Melaka Raya
Open: 1000h – 1800h (closed on Mondays)
Price: Begins at $4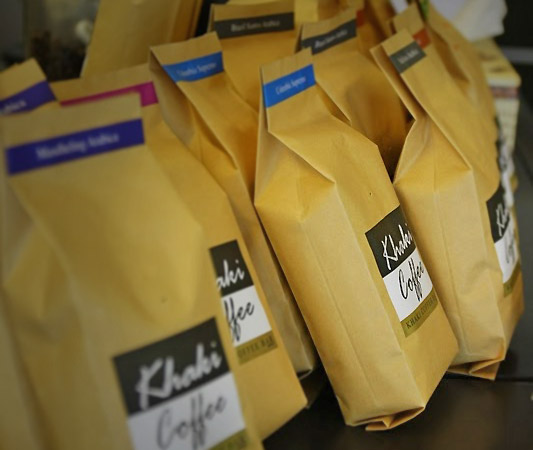 Editor's note: Not all foodies will agree with our choices of top 10 food in Malacca. And if you've found a better place that serves the ultimate Die-Die-Must-Try food, please let us know. Tell us the name and where to find it in comment box below.
Where to Stay in Malacca
Use the following form to search for the best hotel deals in Malacca:
Book Your Bus Ticket Online
Click the button below to search for express bus timing and plan your weekend getaways now.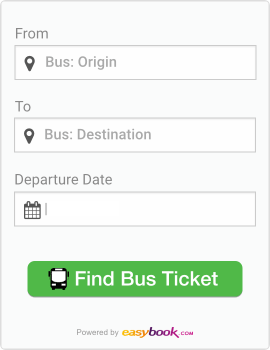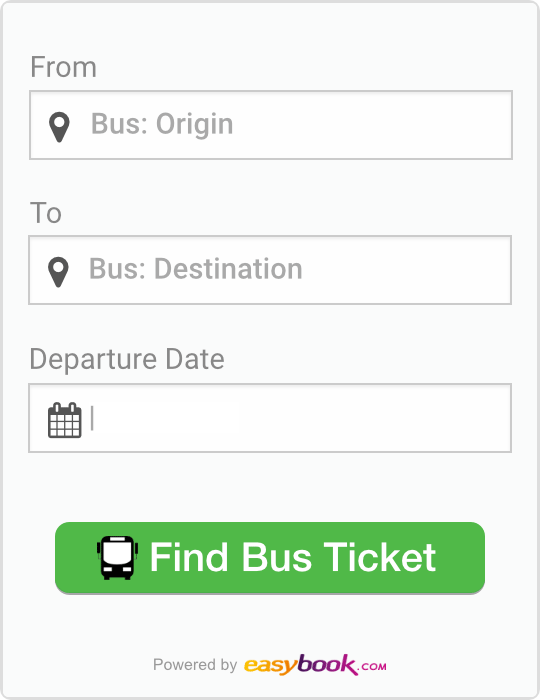 Join the discussion