The One Travel & Tours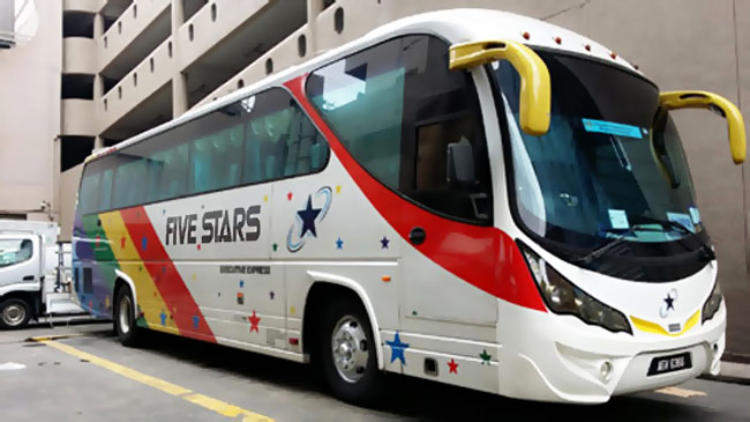 Going to Berjaya Times Square KL from Beach Road or Boon Lay? Then you may want to check out the Five Stars express bus services by The One Travel & Tours at Golden Mile Complex.
Besides daily express buses to Kuala Lumpur, it also offers express bus services to destinations such as Malacca, Seremban, Genting Highlands, Cameron Highlands and Ipoh. It is one of the few bus companies that offer express bus services from Singapore to Yong Peng and Kluang area in Jobhor.
The One Travel & Tours Pte Ltd is managed by a team of industry veterans with more than 20 years of experience in the Singapore-Malaysia express bus industry.
The One Travel & Tours Bus Ticket Prices
Pick-up Point
Destination
Departure Time**
Ticket Price**
1-Way
Golden Mile Complex
Kuala Lumpur
-TBS
-Berjaya Times Square
-Ancasa Hotel
-Capitol Hotel
-Federal Hotel
-Royale Bintang Hotel
-Swiss Garden Hotel KL
-1 Utama Shopping Centre
7.30am, 7.45am, 8am, 9am,
10am, 11am, 1.30pm, 3.30pm,
5.30pm, 7pm, 7.30pm, 8.30pm,
9pm, 10pm, 11pm
fr SGD41.50
Boon Lay
8.15am, 8.45am, 9.45am, 11.45am,
2.15pm, 4.15pm, 6pm, 7.30pm,
8pm, 9pm, 9.45pm, 10.30pm
Golden Mile Complex
Malacca
-Melaka Sentral
-Casa Del Rio
-Equatorial Hotel
-Estadia Hotel
-Hatten Hotel
-The Straits Hotel & Suites
8.15am
fr SGD36.50
Boon Lay
9am
Golden Mile Complex
Seremban
8.30am, 10am, 1.30pm
5.30pm, 8.30pm, 11pm
fr SGD31.50
Boon Lay
9.15am, 10.45am, 2.15pm
6pm, 9pm, 10.30pm
Golden Mile Complex
Selangor
-Sunway Lagoon
Subang Parade
Klang Sentral
Tanjung Karang
Sekinchan
Sungai Besar
Sabak Bernam

10am, 7.30pm, 9pm, 10pm
fr SGD41.50
Boon Lay
8pm, 9.45pm
Golden Mile Complex
Genting Highlands
-First World Hotel
6.15am, 7.45am, 11pm
fr SGD36.50
Boon Lay
6.30am, 8.30am, 10pm
Compass Point

6am, 9.30pm
Tampines MRT
5.45am, 9pm
Yishun MRT
6.15am
Golden Mile Complex
Cameron Highlands
-Copthorne Hotel
10.30pm
fr SGD46.50
Golden Mile Complex
Ipoh
-Jalan Bendahara
-Restoran Foh San
-Terminal Amanjaya
10am, 9.30pm
fr SGD51.50
Boon Lay
10.45am, 10.15pm
Golden Mile Complex
Johor
-Yong Peng Lucky Garden
-Terminal Bas Kluang
-Air Hitam Toll
-Simpang Renggam Toll
9am, 9.30am, 11am, 12pm,
1.30pm, 3.30pm, 5.30pm,
6.30pm, 7pm, 8pm
fr SGD21.50
Boon Lay
9.45am, 10am, 11.45am,
12.30pm, 2.15pm, 4.15pm,
6pm, 7.30pm, 8.30pm, 9.30pm
**The above timing and fares are subjected to changes without notice.
Book Your Express Bus Ticket Online
Search for the best timing and compare prices among express bus operators at Easybook.com.