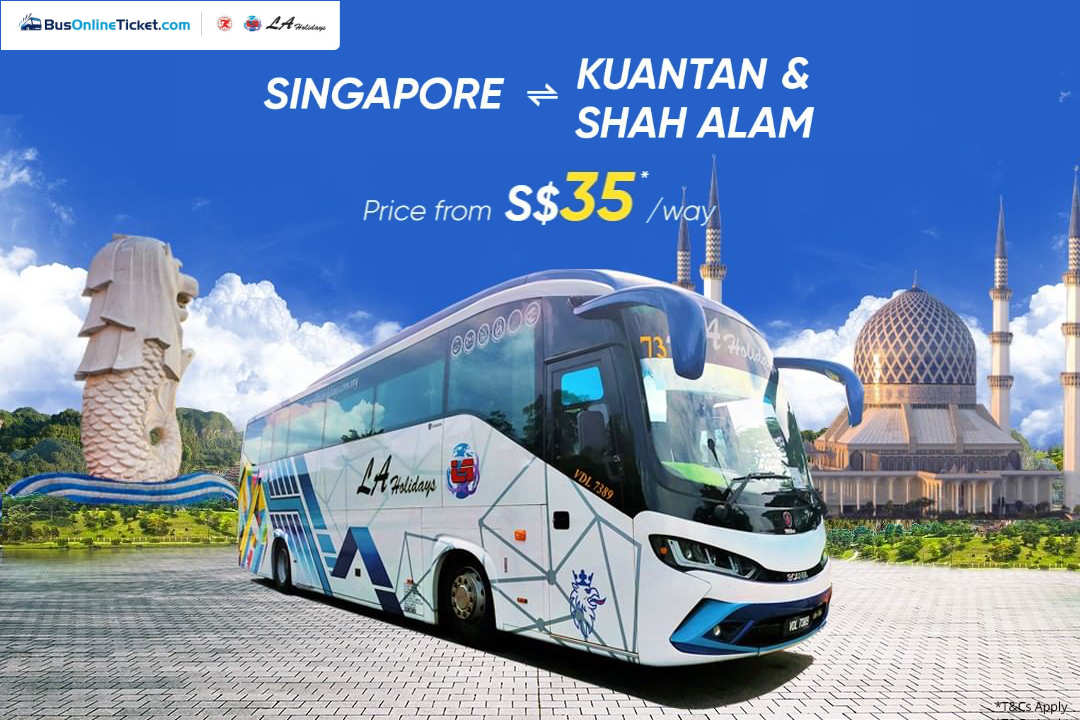 [10 Jun 2022] LA Holidays Travel & Tour in partnership with KKKL Express is offering express bus services from Singapore to Kuantan and Shah Alam. You can catch the daily LA Holidays(KKKL) bus at Kovan Hub and Katong V Mall to Kuantan Sentral, one-way ticket costs SGD35.
The Singapore to Shah Alam one-way bus ticket starts from $39. There are 2 departures daily at Kovan Hub and Katong V Mall to Shah Alam Bus Terminal, Selangor. See the table below for the departure times from Kovan Hub and Katong V Mall.
Pick-up
Drop-off
Departure Time
Kovan Hub
Kuantan Sentral
10pm
Shah Alam Bus Terminal
12.30am, 11am
Katong V Mall
(Village Hotel Katong)
Kuantan Sentral
10.30pm
Shah Alam Bus Terminal
1am, 11.30am
*The above timing and bus ticket prices are subjected to changes without notice.
LA Holidays express bus return trips from Shah Alam to Singapore departs at 10.30am and 10.30pm daily, and Kuantan to Singapore departs at 10am daily. To book LA Holidays bus tickets online, click BusOnlineTicket.com.


About LA Holidays
LA Holidays Travel & Tour is based in Selangor and operates a relatively new fleet of express buses between Kuala Lumpur and Kuantan. In addition to its own brand of express bus services, LA Holidays Express partners of KKKL to offer express bus trips between Singapore and popular destinations in Malaysia including Kuala Lumpur, Genting Highlands and etc.
You might also like