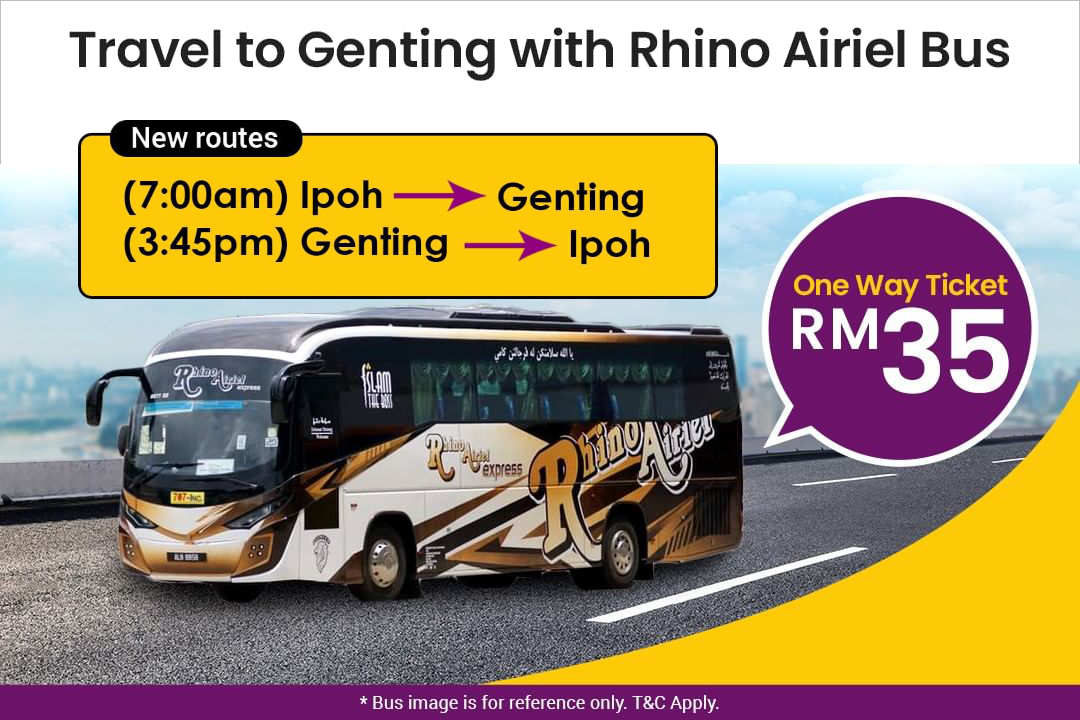 [25 May 2022] Good news to travellers from Ipoh, Rhino Airiel bus has added a morning express bus service from Ipoh's Terminal Meru Raya to Genting's Awana Bus Terminal. The Rhino Airiel bus departs Terminal Meru Raya(Ipoh Amanjaya) at 7am and the trip will take approximately 3.5 hours. The one-way bus ticket from Ipoh to Genting Highlands costs MYR35.
Please see table below for bus timing and ticket prices for Rhino Airiel bus services between Ipoh and to Genting Highlands.
Pick-up
Drop-off
Departure Time
Ticket Price
1-Way
Ipoh
Terminal Meru Raya
Genting Highlands
Awana Bus Terminal
7am
MYR35
Genting Highlands
Awana Bus Terminal
Ipoh
Terminal Meru Raya
3.35pm
MYR35
*The above timing and bus ticket prices are subjected to changes without notice.
To book your express bus ticket online, click Easybook.com.


About Rhino Airiel
Rhino Airiel has been offering express bus services that connect cities/towns in the nothern part of Peninsular Malaysia to Kuala Lumpur. Rhino Airiel buses are single-deck coaches that are fully air-conditioned and reclining seats are arranged in 2+1 seats per row to ample legroom space, and a spacious seating arrangement.
You might also like