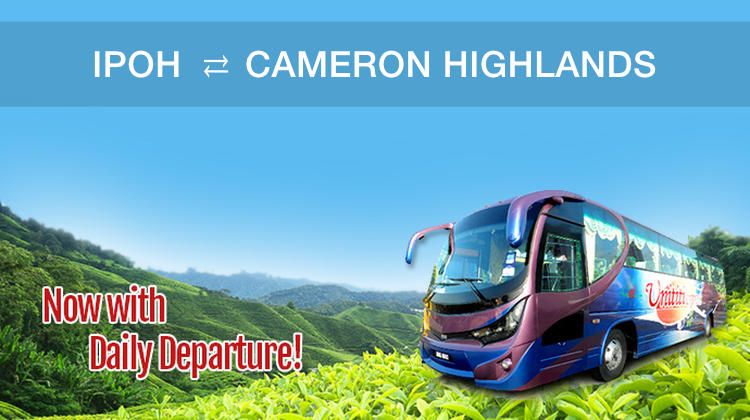 [20 Feb, 2018] Regular scheduled bus services are available from Ipoh Amanjaya Bus Terminal to Cameron Highlands. The trip takes about 2.5 hours and ends at Tanah Rata Bus Terminal, Cameron Highlands. The one-way bus fare from Ipoh to Cameron Highlands costs MYR20. Similarly, the return trip bus ticket from Cameron Highlands to Ipoh is also priced at MYR20.
Perak Transit Bus to Cameron Highlands Bus Schedule
Pick-up
Drop-off
Departure Time
Ticket Price
Ipoh, Perak
Ipoh Amanjaya
Cameron Highlands
Tanah Rata
8am, 9.30am, 3pm, 4pm, 5pm, 6.30pm
MYR20
Besides Perak Transit, there are two other bus operators that offer daily bus services from Ipoh to Cameron Highlands. Unititi Express bus departs from Ipoh Amanjaya at 11am and Rhinoariel bus departs at 3.45pm.
Unititi Express & Rhinoariel Bus to Cameron Highlands
| Bus Company | Pick-up | Drop-off | Departure Time | Ticket Price |
| --- | --- | --- | --- | --- |
| Unititi Express | Ipoh Amanjaya | Cameron Highlands | 11am | MYR20 |
| Rhinoariel Travel & Tours | Ipoh Amanjaya | Cameron Highlands | 3.45pm | MYR20 |
You may buy the ticket at the bus terminals or to book your ticket online click here.


About Perak Transit
Perak Transit Berhad, established in 2008, is based in Ipoh and the biggest stage bus operator in the state of Perak.
You might also like