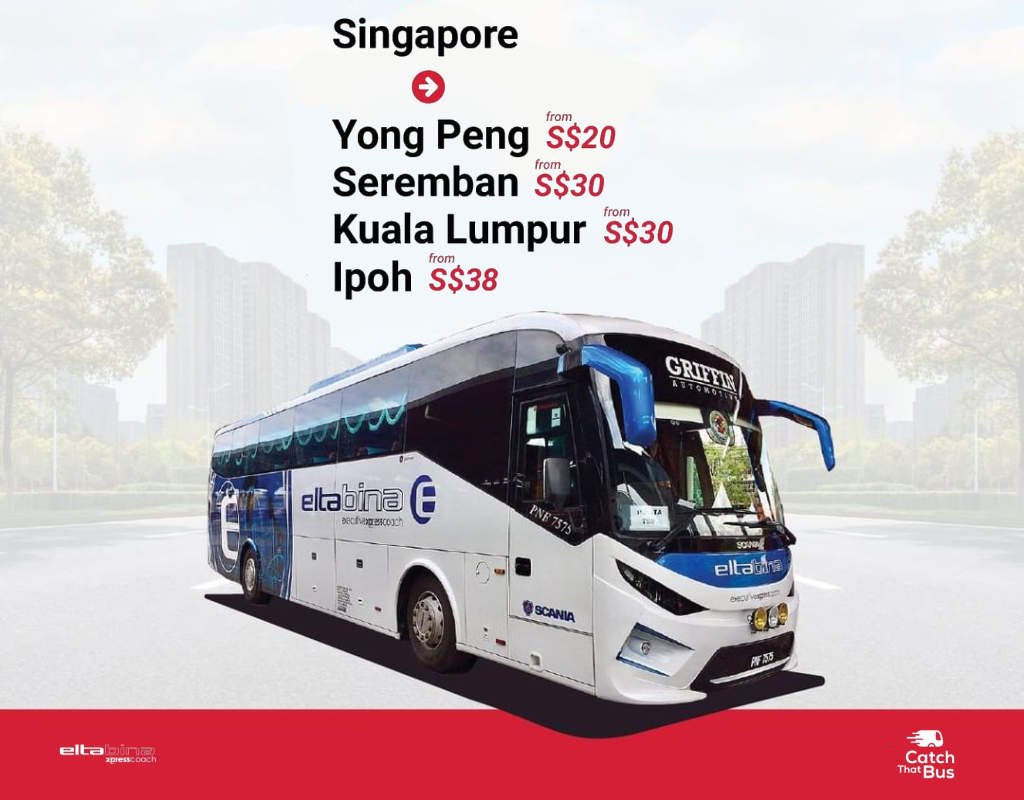 [19 November 2019] Eltabina Express bus from Singapore to Ipoh picks up passengers from The Plaza at Beach Road and drops off at Terminal Meru Raya (Terminal Amanjaya, Ipoh. The bus departs from Singapore at 10pm and the journey takes between 8 to 9 hours, arriving Ipoh between 6am and 7am. Along the way, the bus will make stops at Yong Peng, Seremban and Kuala Lumpur.
The Singapore to Ipoh bus ticket costs SGD38 one-way. See the table below for bus fares and departure timings for Singapore to Yong Peng, Singapore to Seremban and Singapore to Kuala Lumpur.
Pick-up
Drop-off
Departure Time
Ticket Price
1-Way
Singapore
The Plaza, Beach Road
Ipoh
Terminal Meru Raya
10pm
SGD38.00
Yong Peng
Terminal Yong Peng
8.30am, 2.30pm, 10pm
SGD20.00
Seremban
Terminal 1
SGD30.00
Kuala Lumpur
Terminal Bersepadu Selatan
SGD30.00
To find out more about express bus tickets and timings from Singapore to Ipoh, click here.


About Eltabina Express
Eltabina has been operating express bus services and bus chartering services since 1992. The head office is located in Kuala Lumpur, Malaysia. The Singapore office, Eltabina Jaya Express Pte Ltd, was established in 1997 to provide express services from Singapore to Kuala Lumpur, Perak and Penang. The fleet of express buses include 27-seater Super VIP coach and 37-seater double-decker.
You might also like