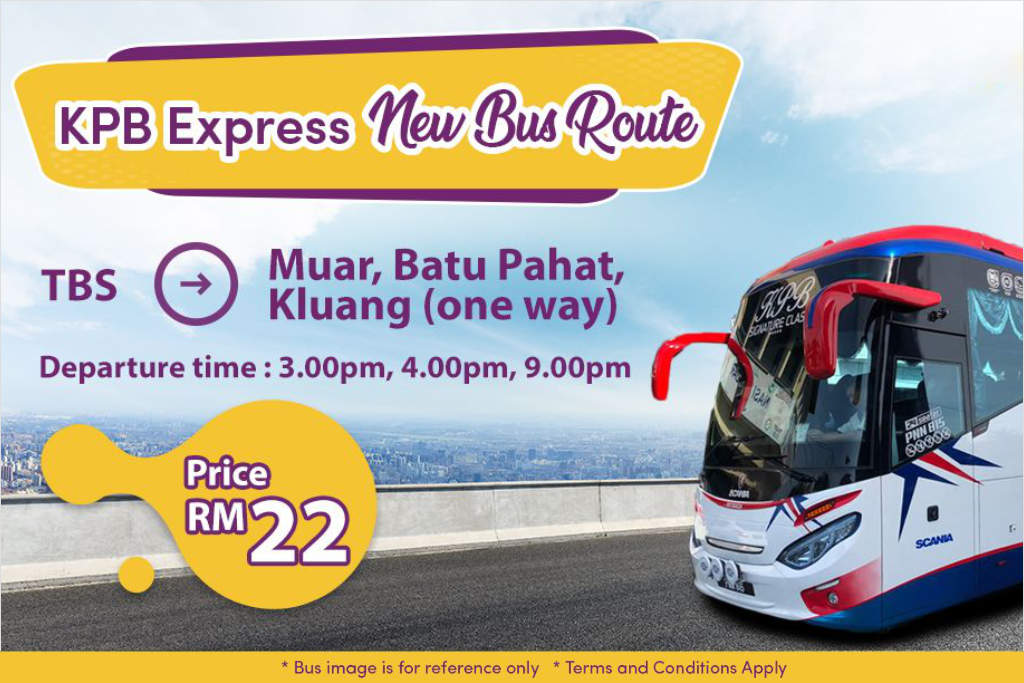 [23 June 2020] KPB express has launched new express bus routes from TBS to Muar, Batu Pahat and Kluang. The one-way bus ride from TBS to Muar takes about 2.5 to 3 hours and ticket costs from MYR22, more price information in the table below. The KPB bus departs from Terminal Bersepadu Selatan(TBS) at 3pm, 4pm and 9pm.
The table below indicates the departure timings at Terminal Bersepadu Selatan(TBS) and the one-way bus ticket prices to Muar, Batu Pahat and Kluang.
Pick-up
Drop-off
Departure Time
Ticket Price
1-Way
TBS


Terminal Bersepadu Selatan

Muar
3pm, 4pm & 9pm
MYR22
Batu Pahat
MYR25
Kluang
MYR25
To book your Neoliner's bus ticket online, click Easybook.com.


About KPB Express
KPB Express offers long distances inter-state express bus services from Butterworth to numerous cities in Malaysia, including Kuala Lumpur, Shah Alam, Klang, Seremban, Johor Bahru, Masai, Melaka and Ipoh at reasonable and affordable price. The KPB bus fleet are equipped with air conditioning and spacious seat with ample of leg room.
You might also like