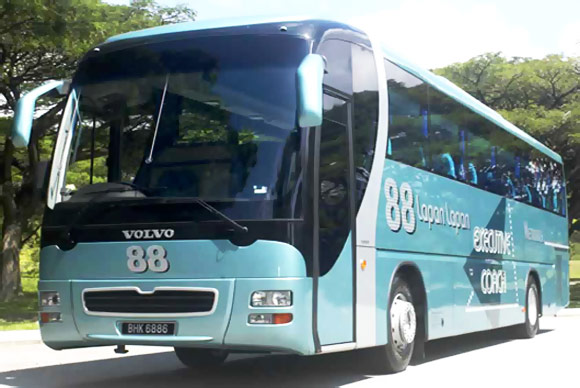 Lapan Lapan Travel - 88 快车
Fans of travel fairs may have heard of Lapan Lapan Travel aka "88 express bus" or 88 快车 in Chinese, is known to offer extremely low fares during promotional periods. It operates from Park Royal Hotel at Kitchener Road in Singapore to Ipoh, Kuala Lumpur and Malacca.
Lapan Lapan express buses are comfortable and spacious, and are usually 27-seaters. The express bus services normally depart from Singapore about 9.30am in the morning and 9pm-10pm at night.
The bus fare from Singapore to Kuala Lumpur starts from SGD30** and the drop-off points are Terminal Bersepadu Selatan(TBS) and Furama Bukit Bintang Hotel. Many passengers were OK with Lapan Lapan service, with one even claiming that he had never taken such a quick trip to Kuala Lumpur before.
From Singapore to Malacca the bus fare starts from SGD25** and you can choose to alight at several drop-off points in the city: Melaka Mahkota Medical Centre, Casa Del Rio Hotel, Hatten Hotel, Equatorial Melaka and Novotel Melaka.
Convenient Drop-off Points in Perak
For those going to Perak, Lapan Lapan Travel is perfect, as it offers drop-offs at a host of locations, including Bercham, Gopeng, Ipoh, Kuala Kangsar, Lumut, Setiawan, Taiping and Teluk Intan.
The bus fare from Singapore to Ipoh starts from SGD37** and you can drop-off at Medan Gopeng Bus Terminal, Gunung Rapat Bus Stop and Terminal Amanjaya.
Lapan Lapan Express Bus Timing & Fares
Destination
Departure Time
Fare**
(1-Way)
Terminal Bersepadu Selatan(TBS)
Furama Bukit Bintang Hotel
9.30am, 10pm
fr SGD30
Malacca
Melaka Mahkota Medical Centre
Casa Del Rio Hotel
Hatten Hotel
Equatorial Hotel
Novotel Hotel
8am
fr SGD25
Ipoh, Perak
Medan Gopeng Bus Terminal
Gunung Rapat Bus Stop
KFC Bidor
Terminal Amanjaya
9.30am, 9.30pm, 10pm
fr SGD37
**The timing & bus ticket prices are indicative, please click here for the latest.
Book Your Bus Ticket Online
Find the best timing, compare prices and save the hustle of booking your bus ticket in person. You can now Book Your Bus Ticket Online.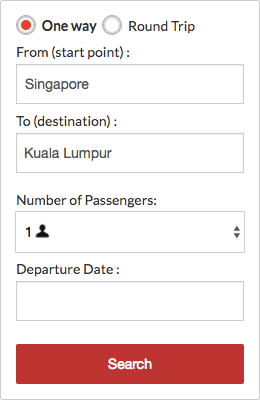 Join the discussion