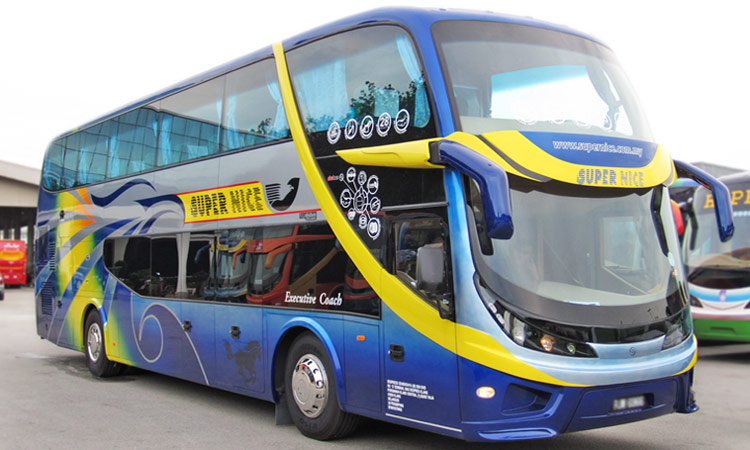 Super Nice Express
The Super Nice Express also popularly known as Supernice Grassland is based in Butterworth, Penang. It offers long-distance VIP express bus services mainly between Kuala Lumpur and destinations in the northern states.
From
Destination
Departure Time
Ticket Price**
(1-Way)
Kuala Lumpur
TBS
Perak
Bagan Serai
Parit Buntar
12.30pm, 7.30pm
fr MYR38
Penang
Butterworth
Sungai Nibong
12.15am, 9.15am, 12pm,
4.30pm, 7.30pm, 8.45pm,
11.55pm
fr MYR36
Perlis
Kangar
Kuala Perlis
10pm
fr MYR50
Kedah
Sungai Petani
Alor Setar
9.15am, 4.30pm, 7.30pm,
8.45pm, 10pm
fr MYR40
Johor
JB Larkin
Skudai
10.15am, 2.15pm, 12pm,
4.30pm,7.30pm, 8.45pm,
10.30pm
fr MYR36
**The above timing and fares are subjected to changes without notice.
Beside pick-up and drop-off at Terminal Bersepadu Selatan(TBS), Supernice Grassland also operates from Duta Hentian to the northern states e.g. Perak, Penang, Perlis and Kedah.
Due to the similarity in the brand names, many has mistaken this bus company with Nice Executive and Grassland Express which operate buses from Singapore.
Book Your Bus Ticket Online
Search for the best timing, compare prices and save the hustle of booking your bus ticket in person. You can now Book Your Bus Ticket Online.
Join the discussion