KKKL Express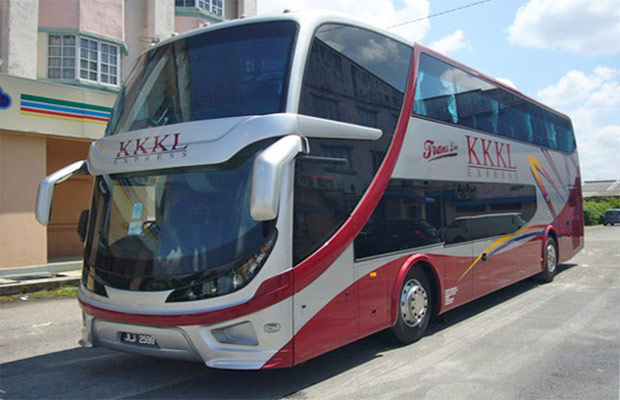 KKKL Express is operated by KKKL Travel & Tours Pte Ltd and is a subsidiary of KKKL Sdn Bhd in Malaysia. Over the years, it has grown to become one of the largest express bus operators in Malaysia.
Modern Fleet of SVIP & Executive Double Deckers
KKKL has over a hundred Super VIP express coaches, executive double decker and high-deck express buses. Beside having and extensive bus networks across Malaysia, it has expanded into Singapore in the recent years. Here's some the popular KKKL Express routes:
Singapore to Kuala Lumpur
Singapore to Genting Highlands
Singapore to Malacca
Singapore to Port Dickson
Singapore to Mersing
Pickup Points near MRT stations
Now, you can take the KKKL buses from Bugis MRT, Katong V, Kovan Hub and Tampines to KL, Genting Highlands or Malacca.
The 4 pickup points are conveniently located at Bugis MRT(Exit D Taxi Stand), Katong V Mall (opposite Katong Shopping Center), Sengkang and Tampines MRT near Exit B.
KKKL Bus Ticket Prices
Bus fares from Singapore to Malacca, Kuala Lumpur and Genting Highlands range from SGD23 to SGD35.
Pick-up Point
Destination
Ticket Price**
(1-Way)
Singapore
Bugis MRT
Katong V Mall
Kovan Hub 206
Sengkang
Tampines
Kuala Lumpur
Terminal Bersepadu Selatan(TBS)
Berjaya Times Square
The 5 Elements Hotel(Chinatown)
fr SGD30
Singapore
Kovan Hub 206
Sengkang
Tampines
Genting Highlands
Awana Genting Resort
fr SGD40
Singapore
Bugis MRT
Katong V Mall
Kovan Hub 206
Tampines
Malacca
Hatten Hotel
Casa Del Rio
The Pines Melaka
Melaka Sentral
fr SGD23
Singapore
Bugis MRT
Negeri Sembilan
Port Dickson
fr SGD36
Singapore
Kovan Hub 206
Bugis MRT Exit D
Mersing
Mersing Jetty
(Gateway to Tioman Island)
fr SGD31
**The timing & bus ticket prices are indicative, please click here for the latest.
Book KKKL Express Bus Ticket Online
Find the best timing, compare prices and save the hustle of booking your bus ticket in person. You can now Book Your Bus Ticket Online.